Malgorzata Twardowska
Deputy Director for Operations Services,CPC - OSCE Secretariat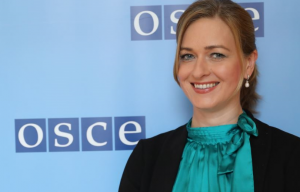 Before joining the OSCE, I was the Deputy Director at the Eastern Policy Department, Ministry of Foreign Affairs of Poland, leading the ministry's efforts in formulating and implementing foreign policy objectives vis-à-vis the countries of the former Soviet Union. I also served as the MFA's Special Envoy for EU Eastern Partnership and worked in the Development Co-operation Department. Prior to joining foreign service, I also worked in the Ministry of the Economy and the Ministry of Health, each time being responsible for international co-operation, which is my passion.    
After graduating from the University I joined the prestigious National School of Public Administration. I always had a strong sense of commitment to public service and wanted to work for the Government. The civil service in the national administration helped me develop rich contacts and collaboration networks with multiple stakeholders – other government officials domestically and abroad, NGOs, parliamentarians, representatives of international organizations. It only came natural that after mostly being focused on bilateral relations of my home country, I wished to try myself in multilateral diplomacy. The OSCE is the perfect place to leverage my skills and to contribute to such an important mandate.   
I joined the OSCE's Conflict Prevention Centre in 2016 and I am based in Vienna. I started as the Senior Policy Support Officer for Eastern Europe in Policy Support Service, and progressed in my career to currently serve as the Deputy Director for Operations Service. I have had the opportunity to make an impact on formulating the OSCE's response to the conflict in eastern Ukraine, which included the day-to-day support to the Special Monitoring Mission to Ukraine as well as an involvement in the mediation process in the Trilateral Contact Group. My current job has allowed me to combine my experience of a practitioner with more conceptual and methodological approaches to the conflict cycle and mediation processes.   
I would definitely encourage applicants to choose the OSCE as an employer and as a step in developing their careers. It is a unique opportunity to work with people with so many diverse backgrounds from 57 participating States and in a wide variety of subject matter areas. But what I value the OSCE most are its universal commitments and values, which get us work together towards comprehensive co-operative security in the OSCE area. What is more relevant in the times of contemporary instabilities and security challenges? So if you have the expertise and passion to work towards advancing the organization's goals, join us.