Katharina Thon
Programme and Capacity Building Officer - OSCE Secretariat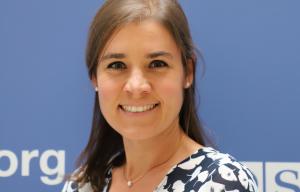 Before joining the OSCE, I worked as a Child protection officer at the UNICEF HQ, the Regional Office for East Asia and the Pacific and the South Sudan Country Office. My portfolio at HQ and regional level was Child Protection Systems Strengthening but I also supported the Migration agenda during the Development phase of the 2 Global Compacts on Migration and Refugees. In South Sudan, I provided support to the DDR (Disarmament, Demobilisation and Reintegration) program and the coordination of the meetings of the UN Country Task Force on Monitoring and Reporting Mechanism. Prior to joining UNICEF, I worked as an Associate Child Protection Officer within UN DPKO in New York, where I led the design and development of the Specialized Training Materials on Child Protection for UN military and UN police in peace operations and supported various other training initiatives for military, police and civilian components.
I hold a Master's Degree in Social Science from a civilian University but in addition I graduated from the officers school of the German Armed Forces. The combination of my academic background with my understanding of military affairs was very helpful while working in UN DPKO NYC and with UNICEF South Sudan, where I worked with Armed Forces and Armed Groups. I believe my background in military affairs coupled with my field experiences in programme management is also very useful to the OSCE particularly given its comprehensive approach to Security.
I joined the Office of the Special Representative / Co-ordinator for Combating Trafficking of Human Beings  as a Programme and Capacity Building Officer in August 2019 and I am based in Vienna. When I saw the advertised position on the OSCE homepage I was absolutely excited about it because it combined my commitment to work on human rights related matters with my passion to work on training and capacity building. I also wanted to make a difference at the regional level for a Regional Organization. So joining the world's largest regional security organization was an easy proposition for me.
What I like the most about working at the OSCE is that I have the opportunity to work at the strategic level while at the same time having the chance to be part of real practical "hands on" work. When we prepare and conduct the simulation-based trainings or engage with practitioners from many different countries, I feel the impact this Organization can have across participating States. The ability to gain practical experience while at the OSCE is very valuable for my professional development as it helps me to ensure that our strategies on training and capacity building respond to the actual needs of the people in the countries.
For anyone considering applying for positions at the OSCE Secretariat, Institutions or Field Operations, I would say four things:
(1) First and Foremost: Trust the process and never give up. Patience in combination with commitment, passion and a little bit of persistency will always pay off. 
(2) Once you are in: Get practical work experience and go to the field as early as possible. This will be very helpful later at HQ level.
(3) Start to build and maintain a network. International organisations benefit from a collaborative spirit and a strong network will help to achieve our common goal.
(4) Don't lose sight of the bigger picture, meaning the potential of international organizations to achieve great things in the long term. It's about the belief that we can make it happen. Don't let frustration over systematic challenges or even bureaucracy or sometimes even politics pull you down. That's all part of working as an international civil servant