Sakina Saodatkadamova
Human Resources Officer - OSCE Mission in Kosovo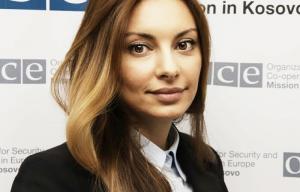 Sakina is a Human Resources Officer at the OSCE Mission in Kosovo. You can listen to her experiences as a secondee at the OSCE by watching our webinar on Understanding the Secondment Process at the OSCE. In 2021, she joined the Secretariat Talent Acquisition Team as  part of our Mobility Programme. 

Tell us a bit about yourself and your background.
I come from Tajikistan in Central Asia and I have two graduate degrees: one in Intercultural Communications from Moscow State University in Russia and an MBA from Steinbeis University, in Berlin, Germany. At the moment, I serve as HR Officer for the OSCE Mission in Kosovo and prior to that, I managed the HR Section of OSCE Programme Office in Dushanbe. 
 
How would you describe your career journey and your favorite thing about your current position a the OSCE?
Since joining the OSCE Programme Office in Dushanbe  in November of 2006, I have been working in the HR section providing support to local and international staff members, which I find very rewarding. Having spent almost 10 years in Tajikistan, I also supported the OSCE Observer Mission at two Russian Checkpoints in Gukovo and Donetzk as a first responder, which gives me great insight into the important activities of the Organization. Later I took on an international seconded post in Kosovo. What I like the most about working at the OSCE is its diverse environment which provides endless opportunities to interact with people of different backgrounds and cultures. I also immensely enjoy the learning environment all of my jobs have offered and the opportunity to develop in my career.

I have been lucky to get the valuable field experience in the largest OSCE field locations of Central Asia and Southeastern Europe. Not only has this experience added to my career journey, but it has also become an integral part of my professional growth.  My work in the international environment has taught me to be open minded, tolerant, flexible.
 
What would you recommend to potential candidates interested in working for the OSCE? 
Go for it! It is a challenging but rewarding experience. On the technical side, carefully check the job description and the requirements for any position you apply for. I also recommend you register for our webinars on a monthly basis to learn more about our recruitment process and get insightful tips to prepare for interviews and complete job applications. 
To learn more about opportunities at the Mission in Kosovo, follow Sakina on LinkedIn.