Webinar Outreach Programme
The OSCE's Webinar Outreach Programme features monthly interactive presentations to:
Promote the Organization as an employer of choice to global and targeted audiences
Inform potential applicants about the value of adding the OSCE to their career journeys, our recruitment processes, types of contracts and benefits
Offer guidance on interview and application preparation strategies, particularly to candidates not familiar with applications to multilateral / international organizations
Showcase our staff & mission members to highlight our activities across the OSCE region
Engage with candidates and support our outreach efforts, especially on targeting niche professionals, qualified women and applicants from less-represented participating States
Click on the images or titles below and complete a very brief questionnaire (<90 seconds) to register to attend a LIVE SESSION or WATCH THE RECORDING of our monthly presentations.
*****Please note that some of our webinar offerings are currently not available for viewing due to technical issues. We apologize for the inconvenience and will update this page soon.*****
Upcoming Webinars
Preparing for a Written Assessment at the OSCE
Date: 12 August 2020 at 12h (CET)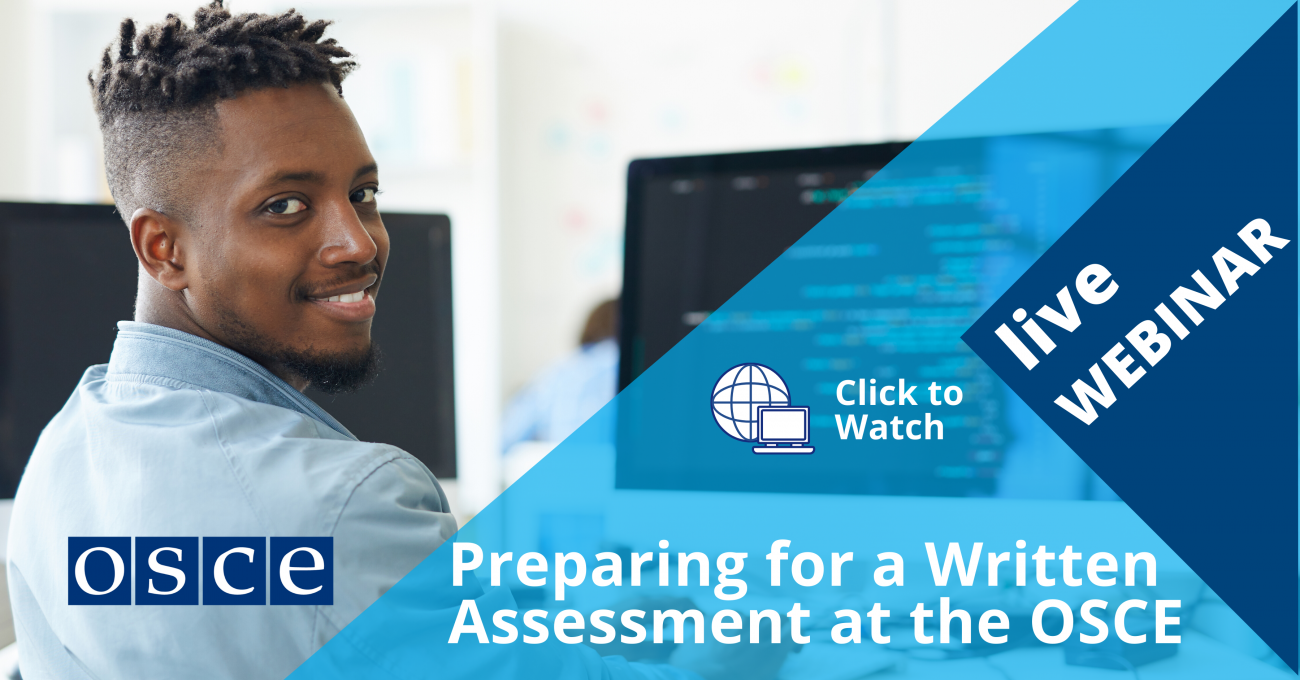 During this live presentation, OSCE recruiters will explain why, how and when the Organization uses written assessments as part of its selection processes. Hiring Managers will provide tips on how to prepare and walk participants through an exercise to identify potential questions based on the function and the job descriptions. Register today to save your spot or to receive the recording!
Past Webinars
Preparing for Competency-Based Interviews for the OSCE
Date: 10 June 2020 at 12h (CET)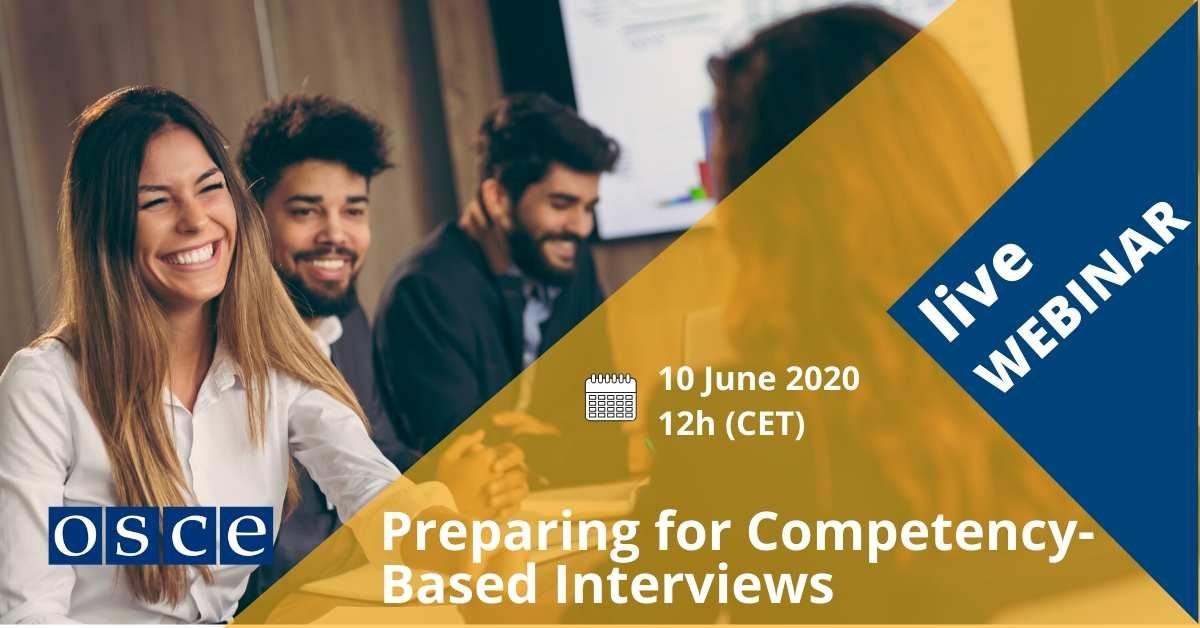 During this live presentation, the OSCE Chief of Recruitment and the Recruitment Officer will walk you through the ins and outs of Competency-Based Interviews.These behavioral interviews correspond to one of the many steps we take as an Organization to ensure we conduct a fair, consistent and transparent process to all applicants.

Participants will learn how and why CBIs are used across international organizations. Speakers will provide the perspective of recruiters and hiring managers while highlighting tips to maximize your ability to showcase how your past experiences and knowledge make you a great fit for positions. A Q&A session will follow after the event. Register today to save your spot or to have access to the recording any time after the event.
Руководство по нашему 10-этапному процессу найма
Recruitment in 10 Steps-  (A Presentation in Russian)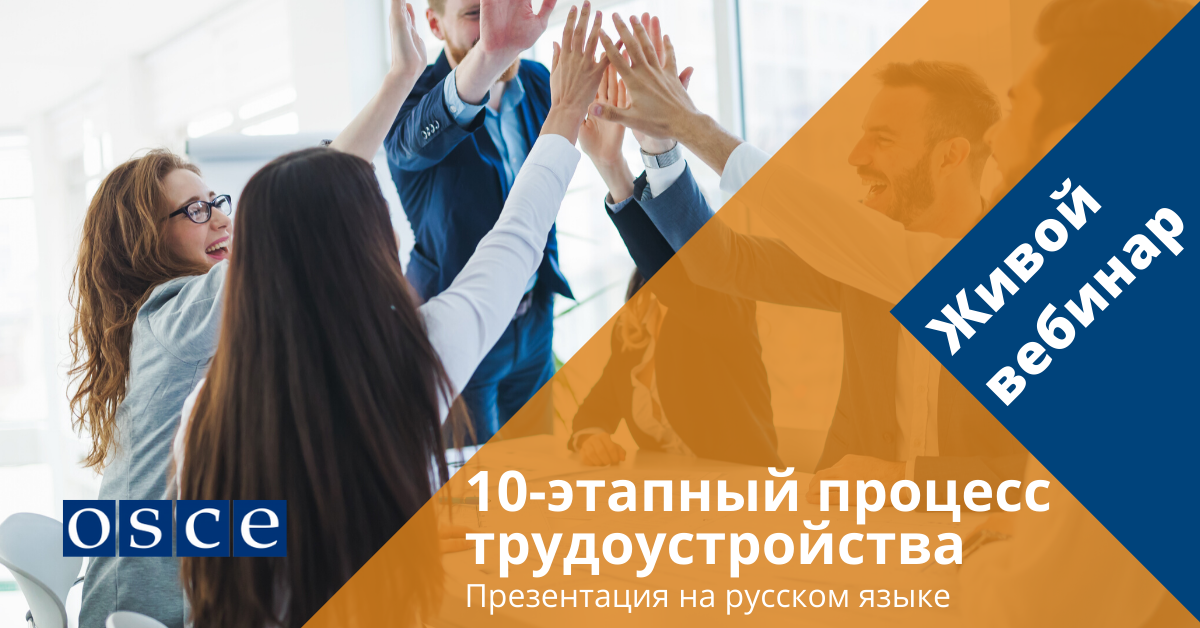 Присоединяйтесь к нашим рекрутерам, чтобы узнать, как ОБСЕ нанимает на международные должности в 10 этапов. Эта 45-минутная презентация объясняет роль кандидата, человеческих ресурсов, групп по подбору персонала, руководителей, членов комиссии по проведению собеседований, правительственных назначающих органов и министра иностранных дел / управления на каждом этапе процесса. Зарегистрируйтесь, нажав на изображение выше.
Join a recruiter and a communications specialist to find out how the OSCE hires for international positions in 10 steps. This 25-minute presentation will provide you information on the roles of the candidate, recruiters and the hr team, hiring manager and interview board members, as well as secondment agencies, government bodies, and the minister of foreign affairs (in the case of secondment positions) at each stage of the process.
Recruitment Process at the OSCE in 10 Steps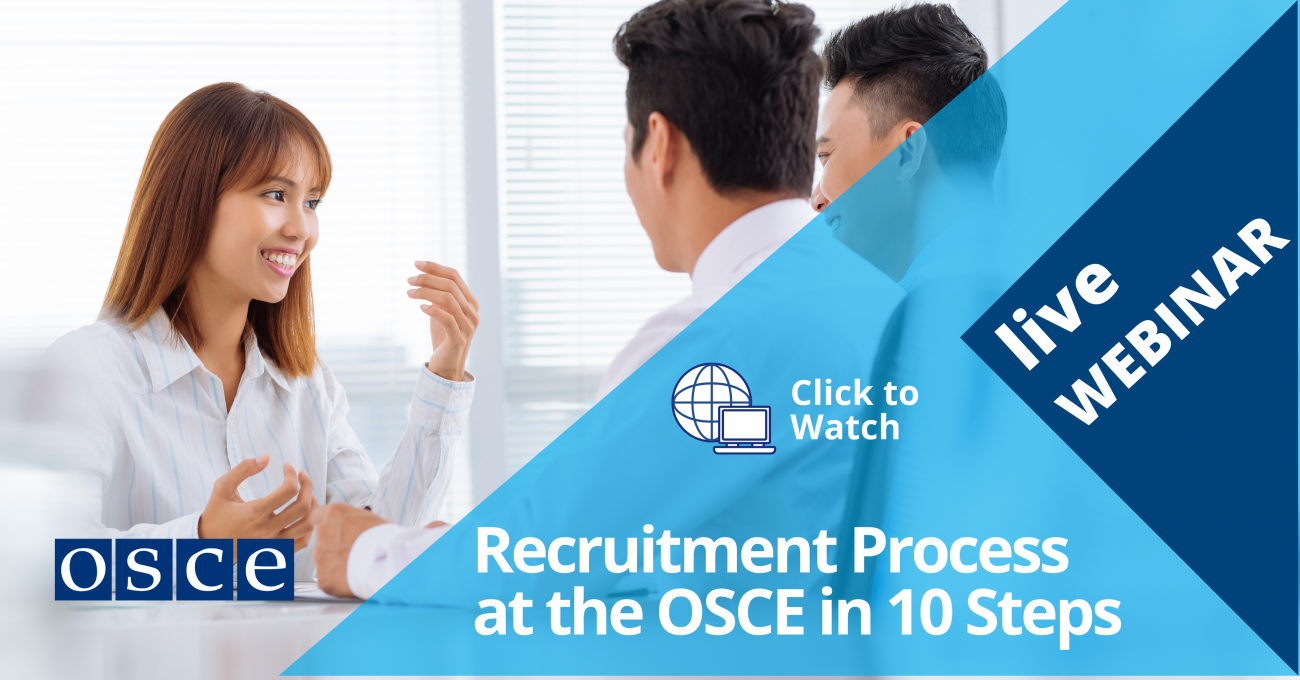 Join our recruiters to learn about how the OSCE hires for international seconded and international contracted positions in 10 steps. This 30-min presentation will elaborate on the role of Human Resources, the Recruitment Team (Secretariat and/or Institutions/FOs), yourself as an Applicant, Hiring Managers, Interview Board Members, Appointing Authority and Minister of Foreign Affairs/ Seconding Authorities (for seconded posts) in each step of the process. Watch the presentation by clicking on the picture above.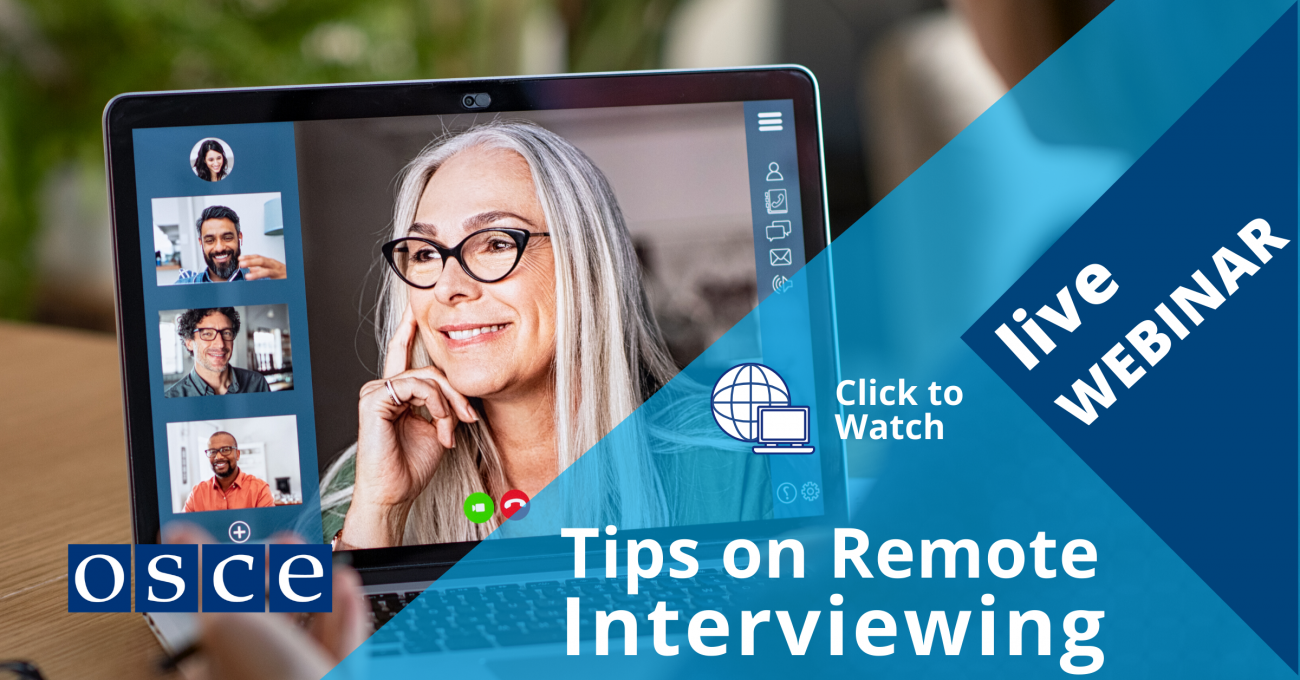 Given the coronavirus crisis, more and more organizations are conducting remote video interviews to keep up with their recruitment processes. The OSCE has been leveraging technology to engage with applicants at multiple steps of the candidate experience. During this webinar,  recruiters and hiring managers will provide useful tips to help you increase your comfort level in video interviews. We will also cover how to minimize distractions during the interview, remain focused and share how your past experiences align with the role advertised. Click on the photo to watch it today!
Junior Professional Officer (JPO) Opportunities at the OSCE 
During this live event, former and current Junior Professional Officers at the OSCE will talk about their experiences at the world's largest regional security organization. Presenters will provide application tips and will elaborate on the types of assignments available for JPOs both at the Secretariat for their first 6 months and subsequently at one of our field operations for the following 6 months. A recruiter will provide details on eligibility criteria and the selection process. Register today to save your spot and/or to watch the recording at a later date.
 
Tips on Remote Working and Psychological Well-Being: A Conversation with OSCE Psychologists and HR Professionals
Date:  13 May 2020 at 15h (CET)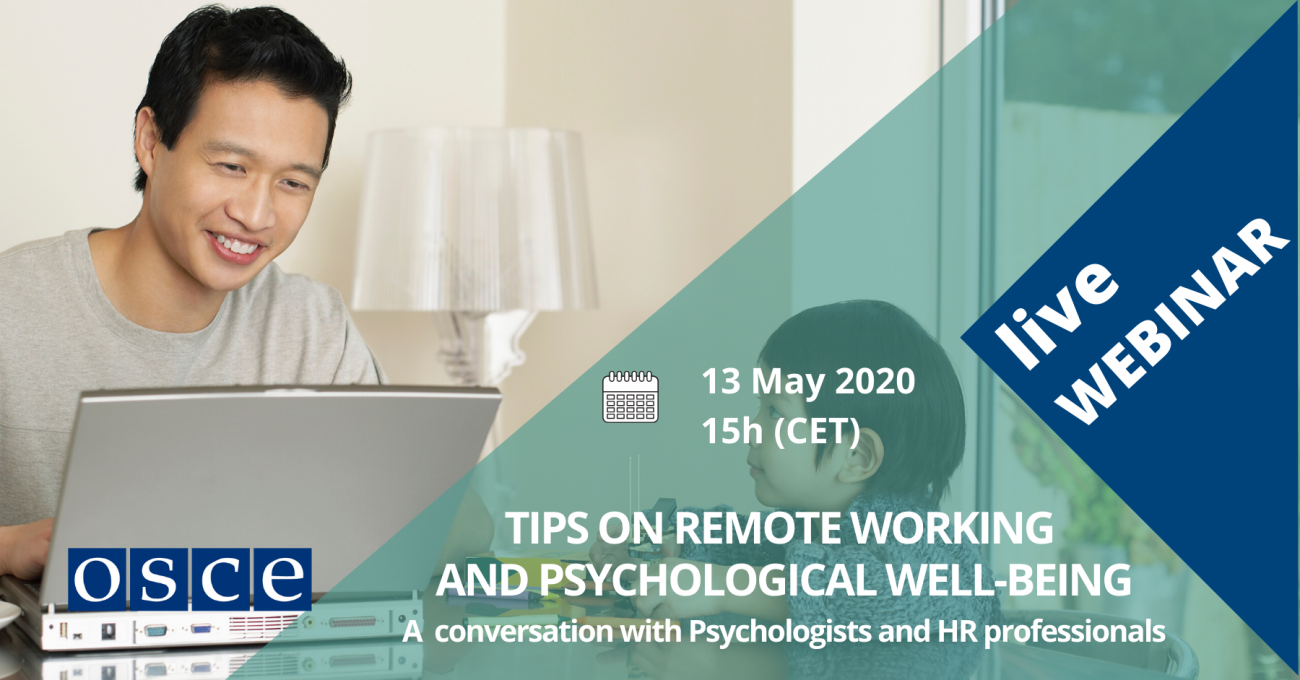 During this live event, you will hear from psychologists on how to maintain a positive outlook and your psychological well-being during the coronavirus crisis. HR professionals will also provide you with tips on Remote Working (aka Telecommuting) so you can remain productive and maintain work and life balance during these challenging times. Register today to attend the live event or to receive the recording of the presentation, which is a special session of our Webinar Outreach Programme. Our goal is to provide information on best practices from qualified professionals in their respective arenas. 
***This presentation does not aim at substituting counselling or providing medical advice. Always refer to your primary care physician or medical authorities when making decisions about your physical or mental health. ***
Women in the Politico-Military Dimension 
Date: 11 March 2020 at 12h (CET)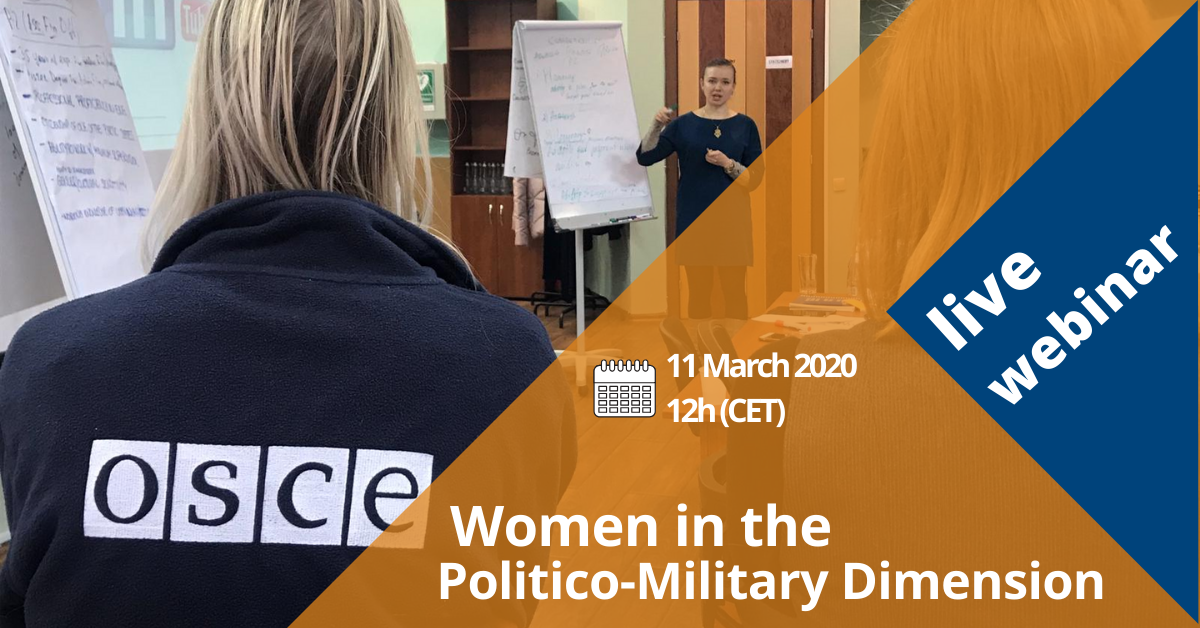 During this live event, participants will learn more about the politico-military dimension at the OSCE, also known as the first dimension. Women from across the Secretariat and Field Operations will elaborate on their contributions to the "first dimension" and will provide insights into their career journeys at the world's largest regional security organization.
Data Analysis: Click here to view infographics
Recrutement à l'OSCE - Présentation en français
Date

19 September 2019 at 12h (CET)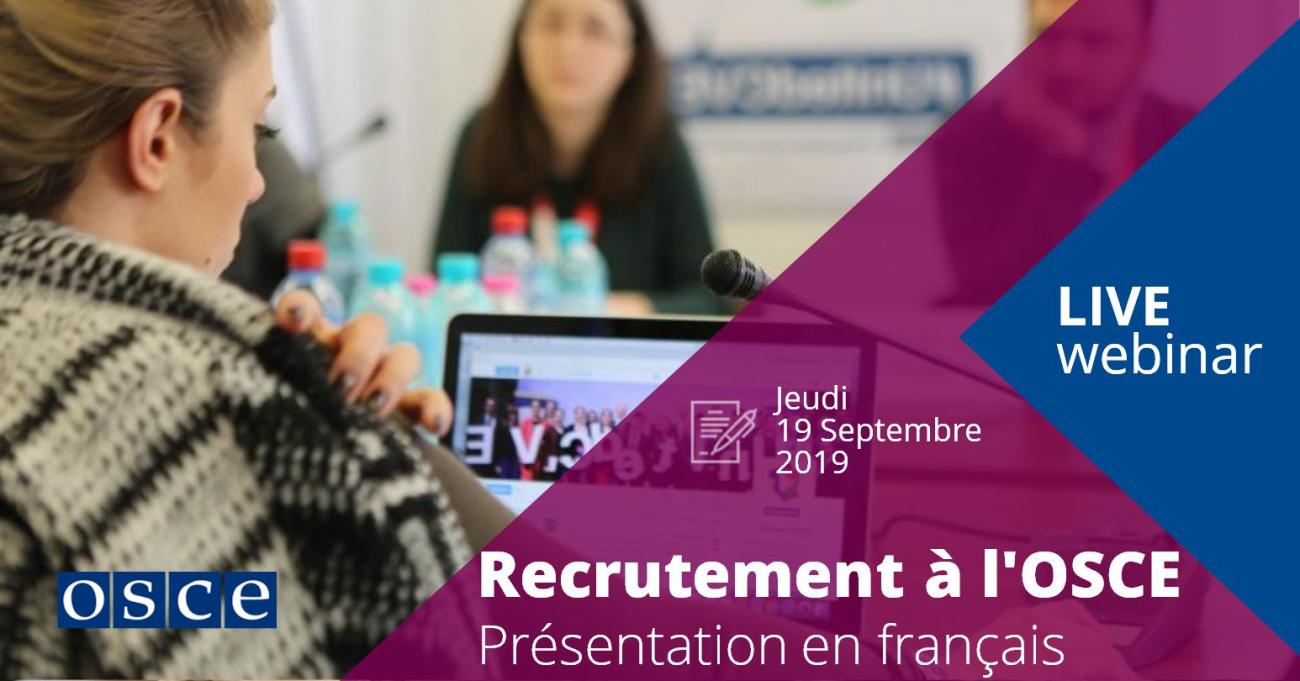 Composée de 57 États participants d'Amérique du Nord, d'Europe et d'Asie, l'OSCE est la plus grande organisation régionale de sécurité au monde. Elle œuvre en faveur de la stabilité, de la paix et de la démocratie pour plus d'un milliard de personnes à travers le dialogue politique sur des valeurs partagées et par des activités concrètes qui influencent durablement le cours des événements.

Au cours de cette présentation en direct, les employés de l'OSCE parleront de leurs expériences et de la valeur ajoutée par l'OSCE dans leur parcours professionnel. Les recruteurs expliqueront également le processus de sélection.
Internship Opportunities at the OSCE
Date

25 June 2019 at 12h (CET)
Did you know that the OSCE offers internship opportunities to recent graduates in diverse areas? Want to learn more about us and what we offer? During this live event, recruiters and hiring managers at the OSCE will discuss the internship programme. Participants will learn about the eligibility criteria, application and selection process as well as receive practical tips. Hiring Managers will provide their perspective on what they expect from interns. Q&A will be available at the end of the presentation.
Understanding Recruitment at the OSCE - A Live Presentation in Russian
Date

31 May 2019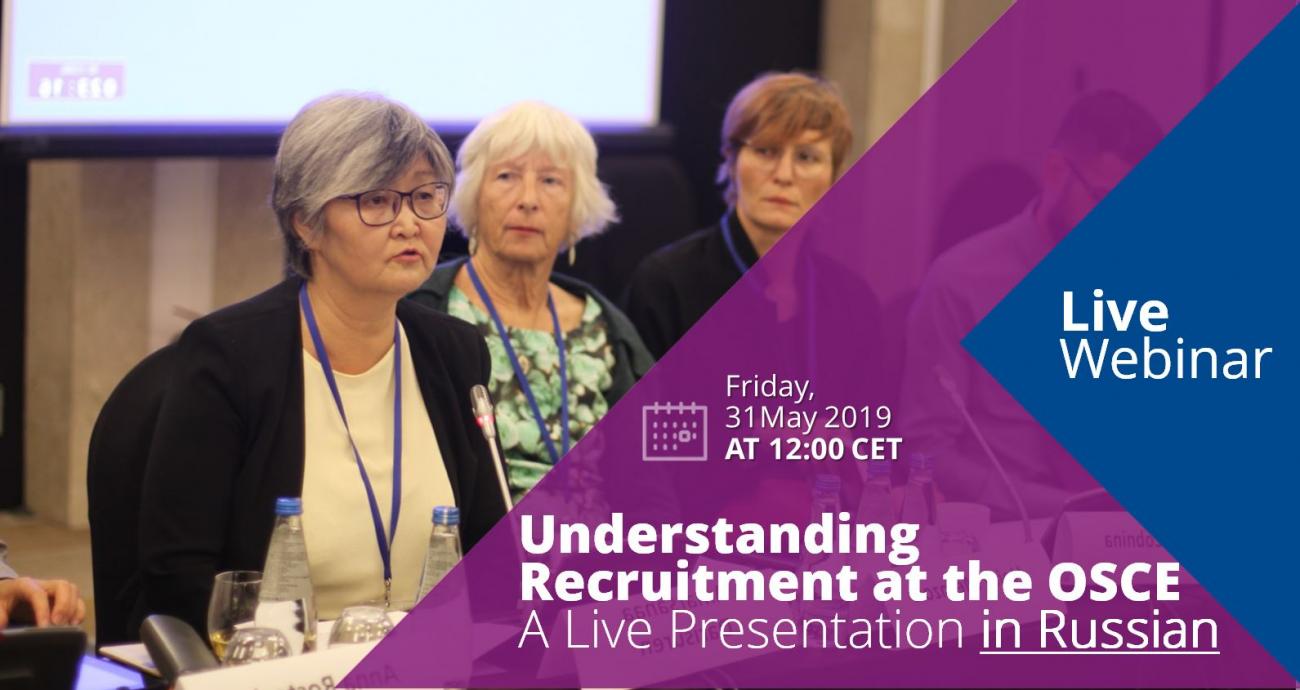 With 57 participating States in North America, Europe and Asia, the OSCE – the Organization for Security and Co-operation in Europe – is the world's largest regional security organization. A large contingent of individuals impacted by our activities speak Russian as a mother tongue or lingua franca. This webinar is focused on providing information about our recruitment processes to speakers of the Russian language across participating States. During this live event, staff and mission members will talk about their experiences working at the Organization and HR professionals will elaborate on our recruitment processes. Register today for this presentation completely in Russian.
Включая 57 государств-участников из Северной Америки, Европы и Азии, ОБСЕ - Организация по безопасности и сотрудничеству в Европе - является крупнейшей в мире региональной организацией по безопасности. Для большого количества людей, затронутых нашей деятельностью, русский язык является либо родным, либо вторым языком общения.
Этот вебинар посвящен предоставлению информации о наших процессах набора персонала для носителей русского языка в государствах-участниках. Во время прямого включения сотрудники и члены миссий поделятся своим опытом работы в Организации, а специалисты по персоналу расскажут о процессах трудоустройства. Мероприятие запланировано на 31 мая 2019 года в 12 часов (Венское время). Зарегистрируйтесь сегодня!
Senior Management Opportunities at the OSCE - Recruitment Drive 2019-2010
Date

24 April 2019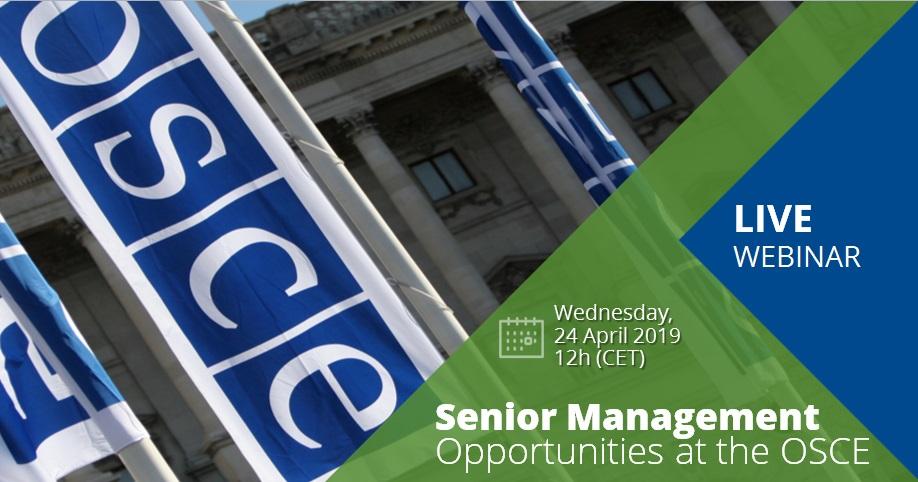 Women at the OSCE: A Conversation on Career Management and Opportunities 
Date

20 March 2019
During this LIVE WEBINAR, current OSCE staff and Mission Members will talk about their careers, share insights and tips about international civil service and will elaborate on the impact the OSCE has had in their career journeys.
Frequently Asked Questions on Recruitment at the OSCE
Date

28 January 2019
During this live presentation, recruiters will answer the most commons questions asked by applicants across participating States.
You can submit your questions in advance to recruitment@osce.org.
Date

28 November 2018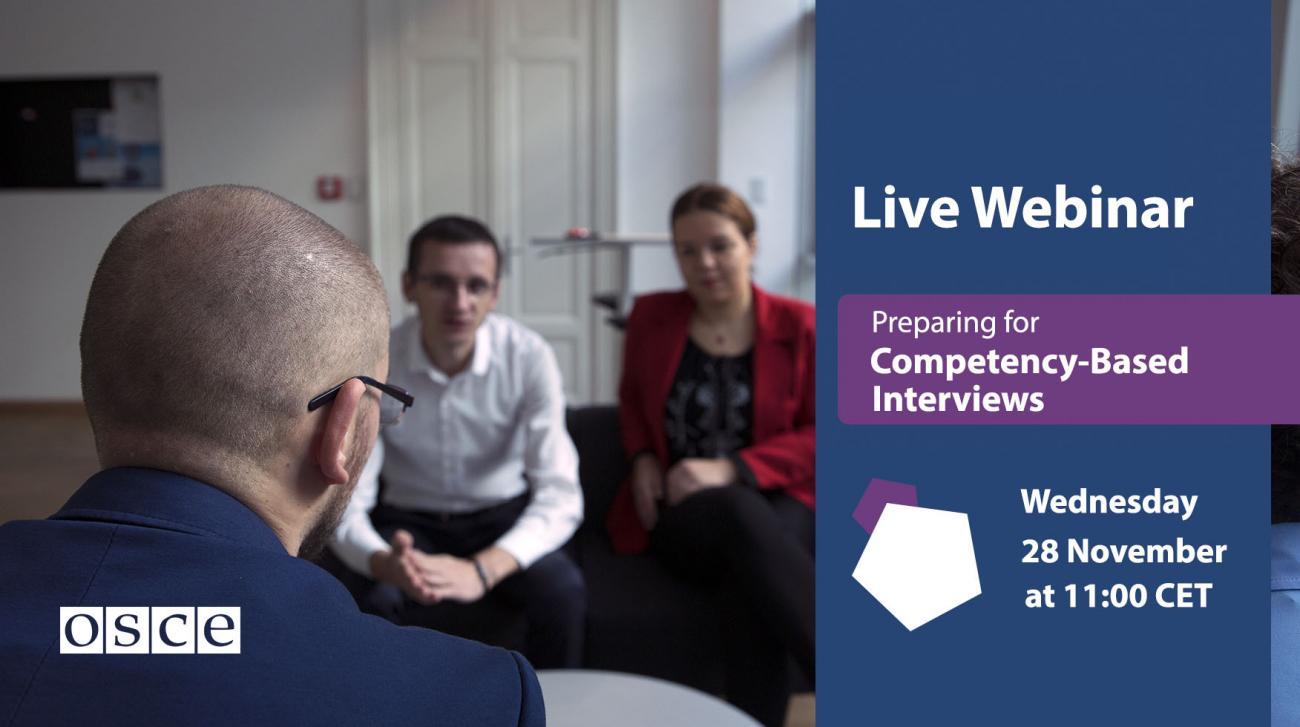 Competency-Based Interviews are used in most international and multilateral organizations to support the selection process of new hires. During this webinar, recruiters from the OSCE Secretariat and Field Operations will discuss how competency-based interviews are used at the OSCE.
Speakers will show how to dissect the job description for competencies in order to anticipate potential questions and will walk participants through exercises. Participants will also find examples of how to answer questions in a structured manner. Hiring managers will present tips on how candidates can highlight past experiences as evidence they are fit for the position for which they are applying.
 
Date

30 October 2018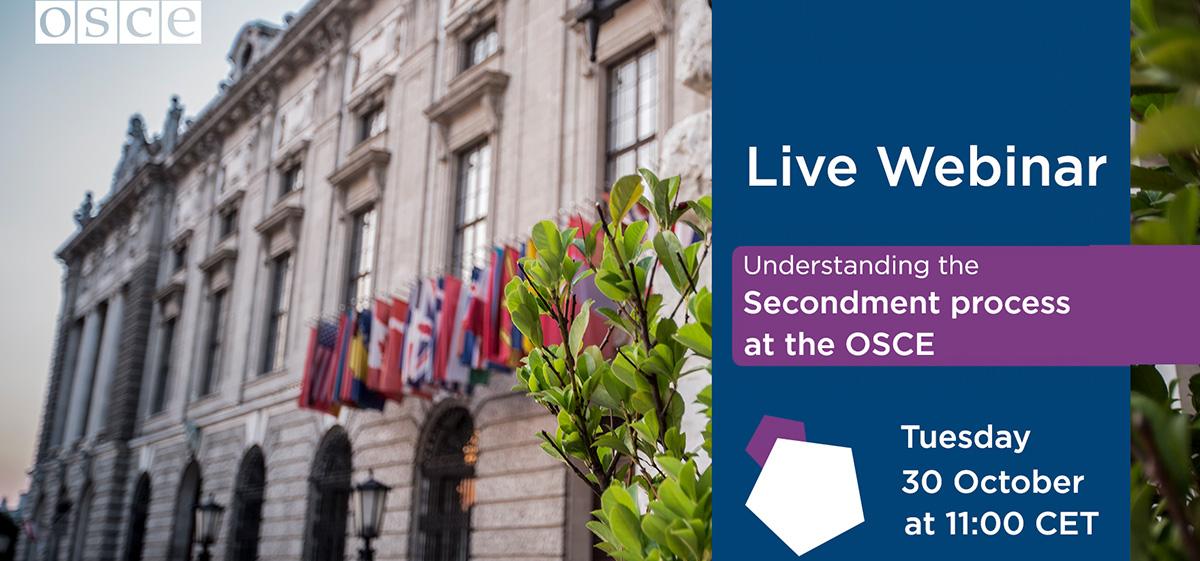 Did you know that the majority of international positions in OSCE Field Operations are filled by secondment? Do you know what it means to be seconded to the OSCE by participating States? How about the conditions of employment of our mission members?
This webinar features essential information to anyone considering applications for secondment positions at the OSCE. Three secondees from countries as diverse as Tajikistan, Portugal and the USA talk about their experiences and the added value of having the OSCE as part of their career journeys. Recruiters also provide step-by-step instructions about the process.
 
Date

18 September 2018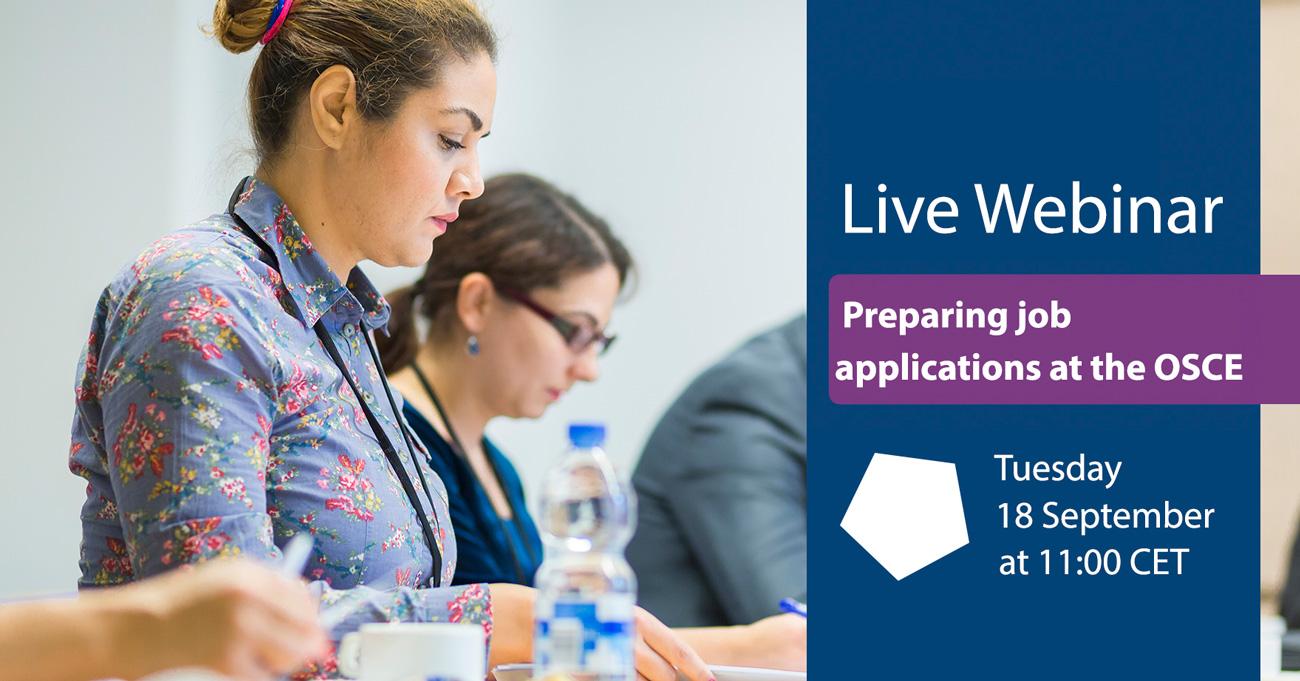 This webinar features recruiters, hiring managers and interview experts providing tips on preparing applications for multilateral and international organizations. Participants will learn how to 1) dissect vacancy notices for critical information on the position; 2) show reviewers how their past experiences and/or potential make them a good fit the for the role; 3) leverage useful tips in presenting their best self in the cover letter. To learn more, click on the picture to watch the recording. 
 
Date

15 August 2018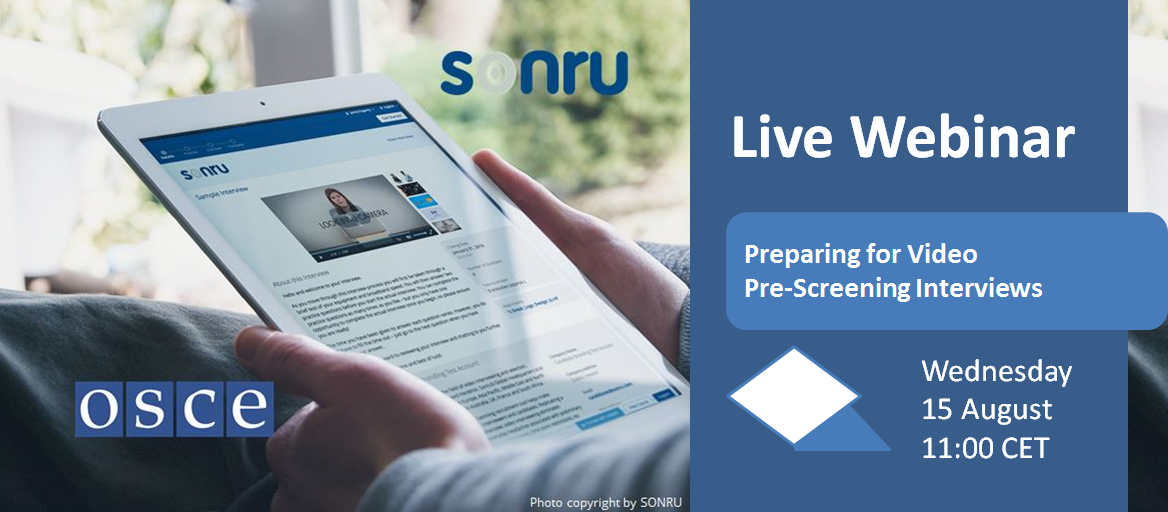 This presentation is open to anyone interested in learning more about the use of asynchronous interviews at the OSCE and multilateral and international organizations. A recruiter and a video interview specialist will provide tips from selecting the best room, to the types of questions asked to dealing with interview anxiety. Click on the picture to watch the recording.
 
Date

19 July 2018
During this presentation, current and former monitoring officers at the Special Monitoring Mission to Ukraine talk about their experiences working in the field and the value added to their career journeys. They also discuss typical myths about working in this capacity and encourage women and qualified professionals from multiple backgrounds including human rights, rule of law, democratization and related to consider these positions. Click on the picture to watch the recording.
 
For a special announcement of our monthly webinars, subscribe to our Talent Acquisition Newsletter at https://jobs.osce.org/osce-talent-acquisition-newsletter
Disclaimer: These webinar presentations feature information on best practices in recruitment and selection procedures from the public, private and international civil service sectors. Following these recommendations does not predict any outcome, including but not limited to, long-listing or short-listing statuses, invitations for pre-screening, written tests or interviews. However, we believe participants and listeners will greatly benefit from the insights provided as they prepare applications or attend interviews at the OSCE or other international organizations.