Webinar Outreach Programme
The OSCE's Webinar Outreach Programme features monthly interactive presentations to:
Promote the Organization as an employer of choice to global and targeted audiences
Inform potential applicants about the value of adding the OSCE to their career journeys, our recruitment processes, types of contracts and benefits
Offer guidance on interview and application preparation strategies, particularly to candidates not familiar with applications to multilateral / international organizations
Showcase our staff & mission members to highlight our activities across the OSCE region
Engage with candidates and support our outreach efforts, especially on targeting niche professionals, qualified women and applicants from less-represented participating States
Click on the images below and complete a very brief questionnaire (<90 seconds) to register to attend a LIVE SESSION or WATCH THE RECORDING of our monthly presentations.
Webinar of the Month
Our Webinar Outreach Programme will be on hiatus during the summer. Please check back in early September 2019 for an announcement of our new presentation. 
Past Webinars
Internship Opportunities at the OSCE
Date

25 June 2019 at 12h (CET)
Did you know that the OSCE offers internship opportunities to recent graduates in diverse areas? Want to learn more about us and what we offer? During this live event, recruiters and hiring managers at the OSCE will discuss the internship programme. Participants will learn about the eligibility criteria, application and selection process as well as receive practical tips. Hiring Managers will provide their perspective on what they expect from interns. Q&A will be available at the end of the presentation.
Understanding Recruitment at the OSCE - A Live Presentation in Russian
Date

31 May 2019
With 57 participating States in North America, Europe and Asia, the OSCE – the Organization for Security and Co-operation in Europe – is the world's largest regional security organization. A large contingent of individuals impacted by our activities speak Russian as a mother tongue or lingua franca. This webinar is focused on providing information about our recruitment processes to speakers of the Russian language across participating States. During this live event, staff and mission members will talk about their experiences working at the Organization and HR professionals will elaborate on our recruitment processes. Register today for this presentation completely in Russian.
Включая 57 государств-участников из Северной Америки, Европы и Азии, ОБСЕ - Организация по безопасности и сотрудничеству в Европе - является крупнейшей в мире региональной организацией по безопасности. Для большого количества людей, затронутых нашей деятельностью, русский язык является либо родным, либо вторым языком общения.
Этот вебинар посвящен предоставлению информации о наших процессах набора персонала для носителей русского языка в государствах-участниках. Во время прямого включения сотрудники и члены миссий поделятся своим опытом работы в Организации, а специалисты по персоналу расскажут о процессах трудоустройства. Мероприятие запланировано на 31 мая 2019 года в 12 часов (Венское время). Зарегистрируйтесь сегодня!
Senior Management Opportunities at the OSCE - Recruitment Drive 2019-2010
Women at the OSCE: A Conversation on Career Management and Opportunities 
Date

20 March 2019
During this LIVE WEBINAR, current OSCE staff and Mission Members will talk about their careers, share insights and tips about international civil service and will elaborate on the impact the OSCE has had in their career journeys.
Junior Professional Officer Opportunities at the OSCE
Date

25 February 2019
The goal of the Junior Professional Officer (JPO) Programme is to provide selected JPOs with a comprehensive overview of the OSCE, and in particular familiarize them with the Organization's programmatic approach and managerial framework. JPOs will gain hands-on experience working for 6 months at the OSCE Secretariat in Vienna and then transition for 6 more months in one of our Field Operations in Eastern Europe, Southeastern Europe, South Caucauses or Central Asia.

During this webinar, current and former JPOs will talk about their experiences and about how the OSCE has added to their career journeys. Register to attend the LIVE EVENT or receive the recording.
Frequently Asked Questions on Recruitment at the OSCE
Date

28 January 2019
During this live presentation, recruiters will answer the most commons questions asked by applicants across participating States.
You can submit your questions in advance to recruitment@osce.org.
Date

28 November 2018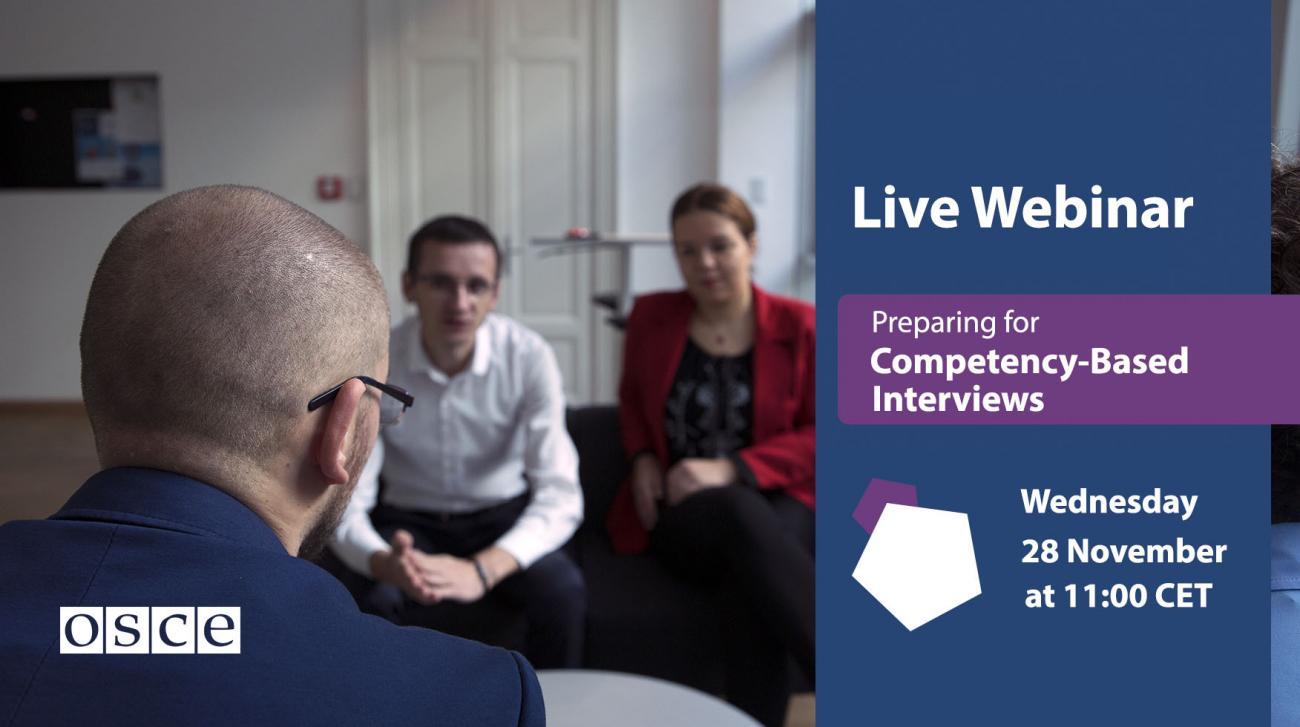 Competency-Based Interviews are used in most international and multilateral organizations to support the selection process of new hires. During this webinar, recruiters from the OSCE Secretariat and Field Operations will discuss how competency-based interviews are used at the OSCE.
Speakers will show how to dissect the job description for competencies in order to anticipate potential questions and will walk participants through exercises. Participants will also find examples of how to answer questions in a structured manner. Hiring managers will present tips on how candidates can highlight past experiences as evidence they are fit for the position for which they are applying.
 
Date

30 October 2018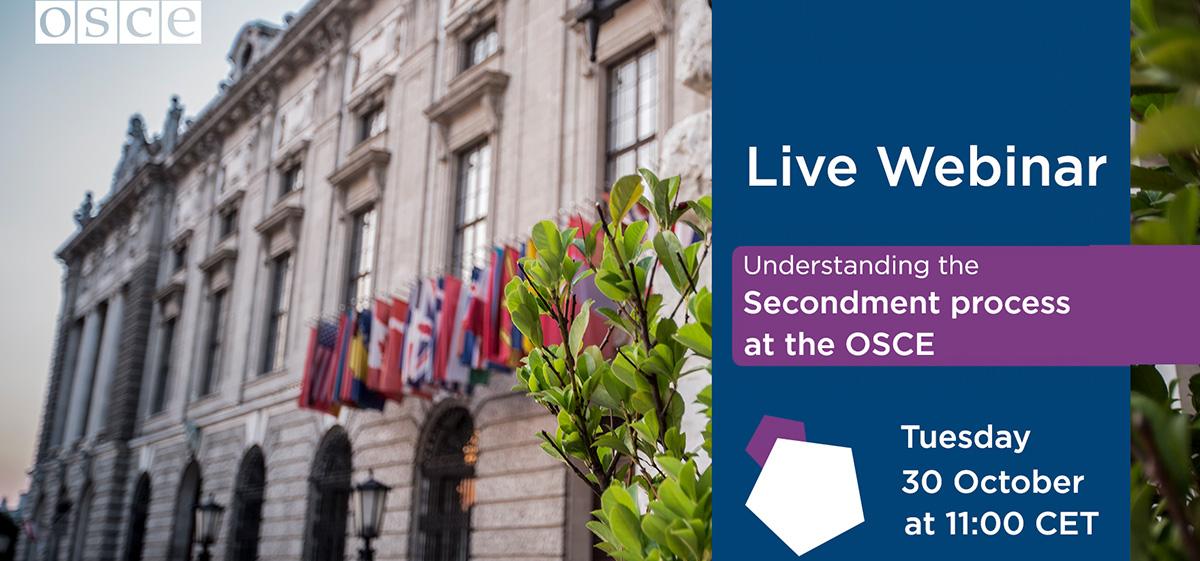 Did you know that the majority of international positions in OSCE Field Operations are filled by secondment? Do you know what it means to be seconded to the OSCE by participating States? How about the conditions of employment of our mission members?
This webinar features essential information to anyone considering applications for secondment positions at the OSCE. Three secondees from countries as diverse as Tajikistan, Portugal and the USA talk about their experiences and the added value of having the OSCE as part of their career journeys. Recruiters also provide step-by-step instructions about the process.
 
Date

18 September 2018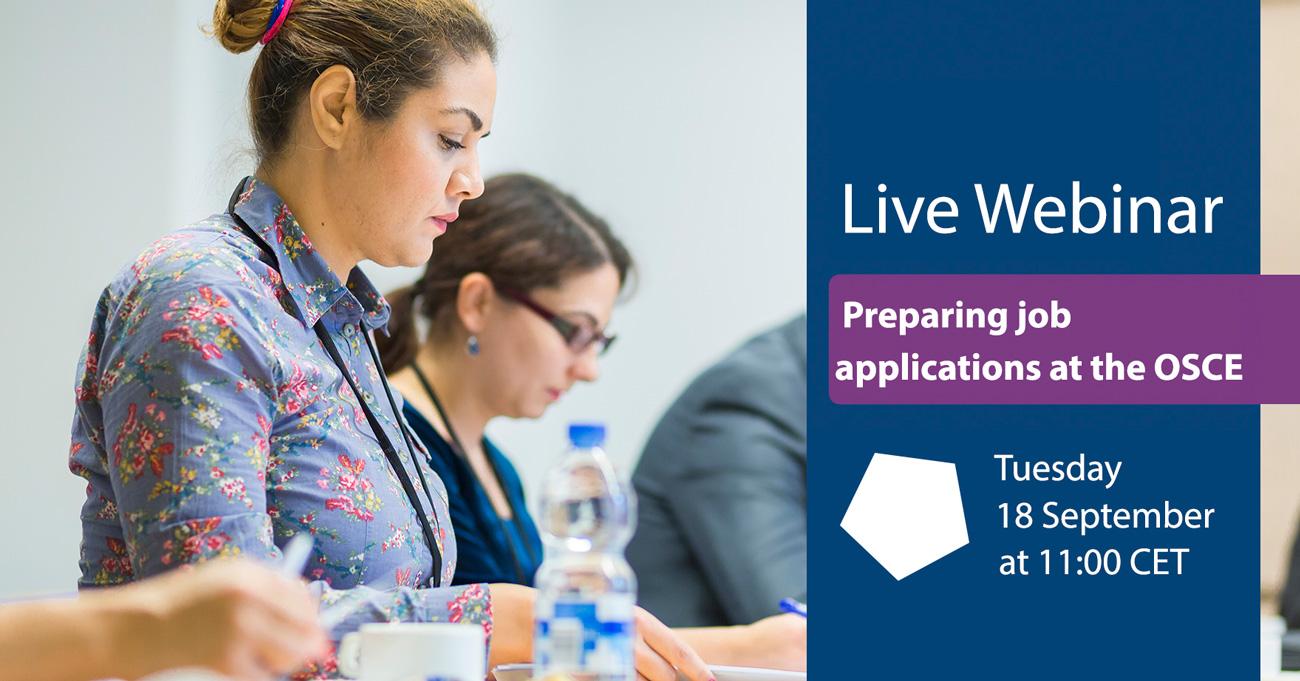 This webinar features recruiters, hiring managers and interview experts providing tips on preparing applications for multilateral and international organizations. Participants will learn how to 1) dissect vacancy notices for critical information on the position; 2) show reviewers how their past experiences and/or potential make them a good fit the for the role; 3) leverage useful tips in presenting their best self in the cover letter. To learn more, click on the picture to watch the recording. 
 
Date

15 August 2018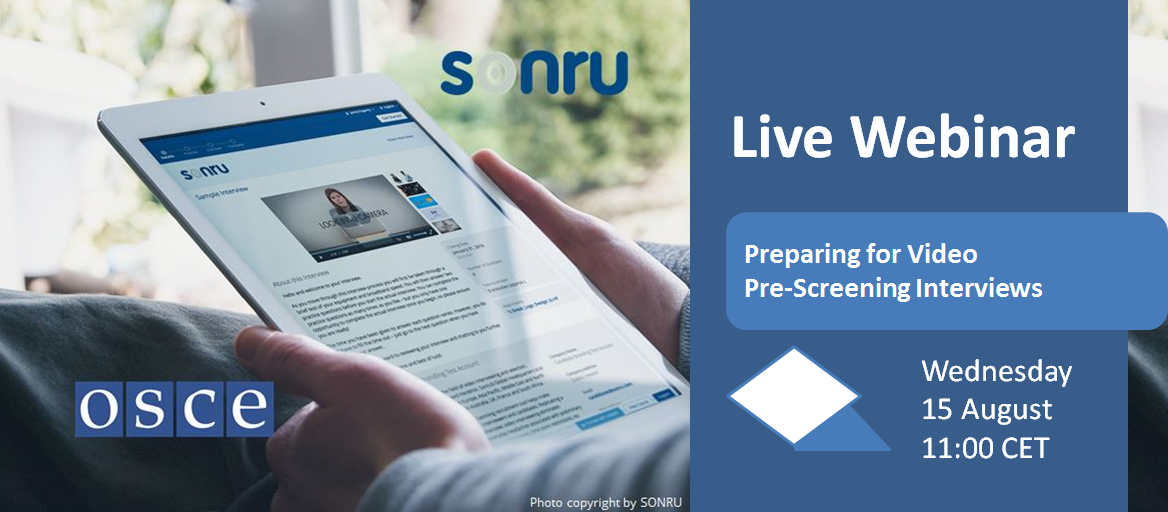 This presentation is open to anyone interested in learning more about the use of asynchronous interviews at the OSCE and multilateral and international organizations. A recruiter and a video interview specialist will provide tips from selecting the best room, to the types of questions asked to dealing with interview anxiety. Click on the picture to watch the recording.
 
Date

19 July 2018
During this presentation, current and former monitoring officers at the Special Monitoring Mission to Ukraine talk about their experiences working in the field and the value added to their career journeys. They also discuss typical myths about working in this capacity and encourage women and qualified professionals from multiple backgrounds including human rights, rule of law, democratization and related to consider these positions. Click on the picture to watch the recording.
 
For a special announcement of our monthly webinars, subscribe to our Talent Acquisition Newsletter at https://jobs.osce.org/osce-talent-acquisition-newsletter
Disclaimer: These webinar presentations feature information on best practices in recruitment and selection procedures from the public, private and international civil service sectors. Following these recommendations does not predict any outcome, including but not limited to, long-listing or short-listing statuses, invitations for pre-screening, written tests or interviews. However, we believe participants and listeners will greatly benefit from the insights provided as they prepare applications or attend interviews at the OSCE or other international organizations.