Junior Professional Officer Programme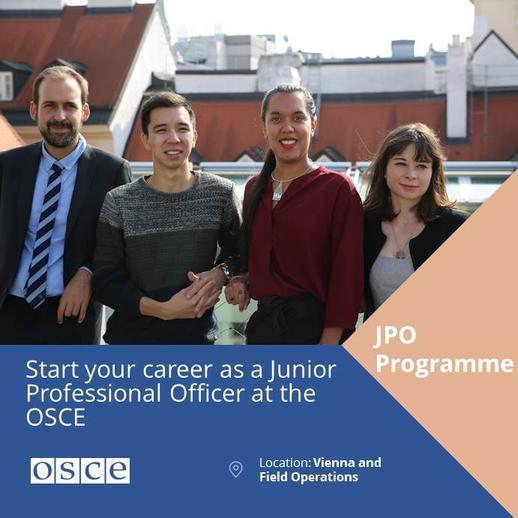 Call for nominations opened for the JPO Programme. Apply by 17 June 2019.
The OSCE needs your skills!
Do you hold a degree in Central Asian, East European or peace and conflict studies?
Do you like working in Communication?
Do you possess a degree in Terrorism studies, political sciences or security studies?
Do you experience in conducting thematic research & analysis and are you keen on drafting policy papers?
Do you have a background in Economics, Gender, Law or Human Resources?
Do you speak Russian?
Programme Overview
The overall goal of the Junior Professional Officer (JPO) Programme is to provide young graduates with an opportunity to gain experience at the OSCE Secretariat and in one of OSCE Field Operation. The Programme provides the selected candidates with a comprehensive overview of the Organization and familiarizes them with the OSCE programmatic approach and regulatory framework.
During their one-year assignment, JPOs will work at two different duty stations and might therefore have the opportunity to focus on two different subject areas. First, there will be a six-month period at the Secretariat followed by another six-month period in one of the OSCE field operations.Two rounds of young professionals are accepted each year.
These assignments are expected to equip JPOs with important skills and abilities to build their professional career in an international and multicultural environment. This will further enable them to compete for future entry-level positions in the international civil service sector.
We advise interested candidates who have graduated in a field relevant to the OSCE's activities to check the OSCE employment website under seconded vacancies to apply using the online application form.
General Requirements
The Spring Round of of applications is only open to nationals of OSCE participating States which agree to fund Junior Professional Officers for this one-year; The Fall round of applications is open to eligible applicants from all 57 participating States;
Candidates should be under the age of 30 on the deadline of this vacancy notice;
Completed first-level degree from accredited universities in a field of study relevant to OSCE's mandate. This may include degrees in: economics/environmental studies, educational/social sciences, international (criminal) law, terrorism studies, Central Asian or East European studies, peace and conflict studies, finance, accounting, human resources. Furthermore, graduates from recognized police and military academies are also eligible;
Professional fluency in English, both oral and written, and the ability to communicate clearly and concisely is mandatory;
Ability to establish and maintain effective working relations with people of different national and cultural backgrounds whilst maintaining impartiality and objectivity; 
Awareness of the importance of integrating a gender perspective into tasks and activities;
Demonstrate open-mindedness, flexibility, high motivation and readiness to take on challenges;
Previous work experience in a relevant field would be an asset;
Knowledge of other OSCE official languages, especially Russian, would be an asset.
For detailed information on available assignments, please visit the vacancy notice on our official jobs site. If you'd like to hear JPOs talk about the impact of the experience on their career journeys, please visit our Webinar Outreach Page at https://jobs.osce.org/webinars .