Junior Professional Officer Programme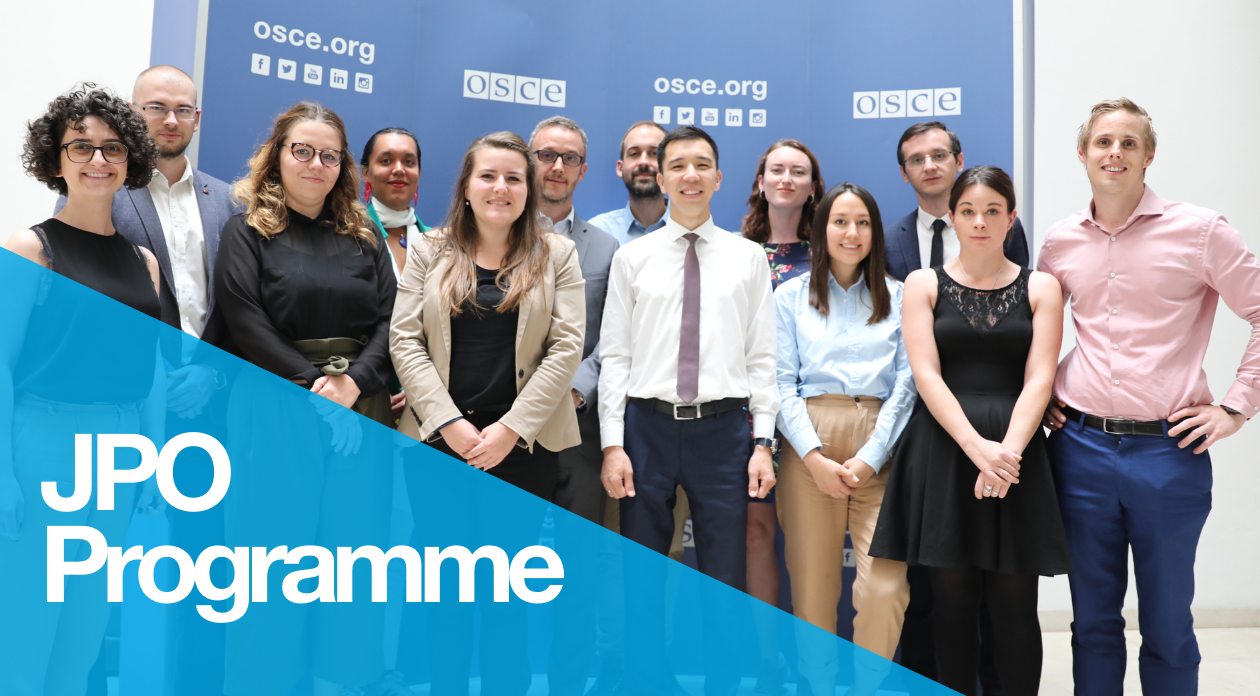 The next start date for the JPO Programme is tentatively scheduled for March 2022. 
The OSCE needs your skills!
Do you hold a first-level university degree in International Relations and Human Rights and Peace and Conflict studies?
Do you like working in Communications?
Do you have experience in conducting thematic research & analysis and are you keen on drafting policy papers?
Do you have a background in Economics or Environmental studies, Gender, Law or Human Resources?
Do you have work experience or knowledge in Project or Programme Management?
Do you speak Russian?
Programme Overview
The Junior Professional Officer (JPO) Programme provides the selected JPOs with a comprehensive overview of the Organization, and in particular familiarize them with the OSCE programmatic approach and regulatory framework. In addition, the aim is to equip JPOs with important skills and abilities to build their professional career in an international and multicultural environment, exposing them to experience at both Secretariat and field level. This will further enable them to compete for future entry-level positions in the international civil service sector.
During their one and a half year assignment, JPOs will work at two different duty stations and might therefore have the opportunity to focus on two different subject areas. First, there will be a nine-month period at the Secretariat (March 2022 until November 2022) followed by another nine-month period in one of the OSCE field operations (December 2022 until August 2023).
We advise interested candidates who have graduated in a field relevant to the OSCE's activities to check the OSCE employment website under seconded vacancies to apply using the online application form when applications. For further information about our next round of applications, please subscribe to our Talent Acquisition newsletter where the next call for applications will be announced.
For more information about OSCE's Junior Professional Officer Programme please watch the webinar on JPO Opportunities.
Programme Objectives
The overall goal of the JPO Programme is:
To provide a comprehensive overview of the Organization, its objectives and goals, and in particular, how the OSCE carries out its daily work/programmes at both HQ level and in the field towards peace, stability and democracy;
To acquire an understanding of the budgeting cycle, both UB and ExB, and the rules and procedures which govern OSCE's business operations (regulatory framework); 
To promote the values and ideas of the OSCE;
To introduce the duties and possible career paths open in the professional world and the skills/competencies required;
To provide the opportunity to work in a multi-cultural, multi-linguistic and multi-ethnic environment, thus building a sense of mutual understanding, trust and tolerance.
Main Areas of Activity JPOs can contribute to
The security challenges addressed by the OSCE are cross-dimensional and include those that pose a threat across borders. It is this aspect of our work that particularly appeals to young talent, and they will gain exposure to, no matter in what thematic or administrative area they serve.
Office of the Secretary General:  external co-operation, legal affairs, executive management/co-ordination, communications/media, gender issues, strategic policy support, ethics, youth portfolio
Conflict prevention: policy support (South Caucasus, Central Asia and Eastern European desk), project evaluation support, arms control/security and confidence-building measures
Transnational threats: counter terrorism, strategic police matters
Economic and environmental affairs: economic governance, environmental co-operation, and energy security
Combating trafficking in human beings – related projects
Human resources:  talent acquisition, talent development, planning and co-ordination
Internal Oversight:  investigation, evaluation and audit 
Management and finance:  budget/accounts/ExB funding
Monitoring & Protecting Media freedom – related projects
Why to join the OSCE JPO Programme?
Exposure to the world of political dialogue;
The chance to work with dedicated professionals in implementing cross-dimensional priority projects;
The chance to learn about the purpose/aims and activities of these projects, the resources needed, and how monitoring and fund-raising are conducted;
The possibility to acquire the skills and competencies needed both on the job and through training for future jobs both at the national level and internationally;
Familiarization with performance appraisal systems in international organizations, how work objectives are set, progress is measured and skill development is recorded.
General Requirements
The 2023 JPO Programme is open to: 1) nationals of OSCE participating States which agree to fund Junior Professional Officers for this one and a half year, and 2) for a limited (maximum five) number of nationals of OSCE participating States who do are not in the position to sponsor;
Candidates should be under the age of 30 on the deadline of this vacancy notice;
Completed first-level university degree in a field of study relevant to OSCE's mandate. This may include degrees in: political science, international relations, human rights, law, politico-military aspects of security, criminal justice, peace and conflict studies, educational/social sciences, public policy, business administration, human resources, economics, environmental studies, information technology, media studies, gender studies;
Professional fluency in English, both oral and written, and the ability to communicate clearly and concisely is mandatory; Knowledge of other OSCE official languages, especially Russian, would be an asset;
Awareness of the importance of integrating a diversity perspective into tasks and activities;
Ability to establish and maintain effective working relations with people of different national and cultural backgrounds whilst maintaining impartiality and objectivity;
Demonstrated open-mindedness, flexibility, high motivation and readiness to take on challenges;
Previous work experience in a relevant field would be an asset;
Computer literacy with practical experience with Microsoft applications.
If you wish to apply when the vacancy opens, please note that your application is subject to nomination by your authorities. This applies for both candidates sponsored by the OSCE (Unified Budget) or funded directly by your participating State. For more information about sponsorship and nomination consideration please inquire with your participating State via the contact email address. 
Direct application to the OSCE Secretariat without nomination shall not be considered.
For detailed information on available assignments, stipend and how to apply, please visit the vacancy notice on our official jobs site. If you'd like to hear JPOs talk about the impact of the experience on their career journeys, please visit our webinar outreach page.
Please be aware that the OSCE does not request payment at any stage of the application and review process. Candidates sponsored by participating States must liaise directly with the seconding authorities for details. Applicants considered for positions sponsored directly by the OSCE are not contacted by headhunters or recruiters directly.