Nieve Heskin
Human Rights Officer and former Junior Professional Officer - OSCE Mission to Bosnia and Herzegovina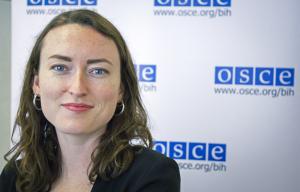 Nieve is a citizen of Ireland and the United States of America. She has a Master's degree in International Human Rights Law. She has volunteered with human rights groups for the past 6 years. She is passionate about combatting sexual violence and improving women's access to health care. Nieve was thrilled to join the Mission to Bosnia and Herzegovina in March 2019 as a Junior Professional Officer. As of 2020, she became a Human Rights Officer at the same Mission where she monitors human rights concerns, especially in the areas of discrimination, fundamental freedoms, economic and social rights as well as minority rights.
What's most exciting about working at the OSCE?
Working at the OSCE is exciting because it has provided me with the opportunity to meet experts in the fields of security, human rights, and global politics – people in positions I aspire to reach. Each day is different and I've been able to learn an incredible amount. The knowledge I've gained has been on the specifics of important issues and then insights into the intergovernmental sector as a whole.
What do you recommend to anyone interested in the JPO Programme?
Apply. Applying for any international organization may seem daunting but go for it. The JPO Programme gives participants experience working at an IO's Secretariat and at a Field Mission. For a young person aspiring to work in this sector, the value of these two experiences cannot be overstated. You'll get to explore what area of the civil servant sector you fit in to best, learn from skilled OSCE staff, and gain practical experience that will assist you throughout your career.
What's the added value of the OSCE to your career journey so far?
The OSCE has helped me direct my career journey. By getting to work at the Secretariat and the Bosnia and Herzegovina Mission,  I will have experiences to help me to figure out what would be a productive and fitting next step and where I want to go in the long run. I have expanded my professional skillset and network, and gained mentors. Thanks to my time with the OSCE, I understand the international civil servant sector better than I did before and have learned a tremendous amount about human rights initiatives.
What is the most interesting thing that has happened to you while working as a JPO at the OSCE?
In December 2018, I was able to travel with my team to the Ministerial Council in Milan. The experience was fantastic. I was present as long negotiations were held, witnessed the successful adoption of OSCE Documents, and listened as national statements were given by Ministers of Foreign Affairs.  My unit supported and assisted at these meetings which entailed diverse responsibilities and high exposure. I could not have anticipated being party to such an impressive diplomatic operation before joining the OSCE and I'm very grateful for the experience.
What happened after your JPO experience?
Throughout my JPO experience, I diversified my profile and possible career trajectories by deepening my knowledge on ongoing global issues that affect the OSCE region. I also expanded my understanding on the Roma community. I competed for a fixed-term position as a Human Rights Officer and was successful in this endeavor. I am now a proud international civil servant working at the world's largest regional security organization.