Nestani Kapanadze
Conflict Prevention / Resolution - OSCE Mission to Moldova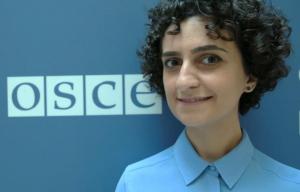 Tell us about your background and why did you decide to apply for the JPO Programme at the OSCE?
I hold a master's degree from Uppsala University, Sweden, in the field of Peace and Conflict Studies. During my studies, I have obtained a strong theoretical background in peacebuilding and mediation, which I was keen to apply in the field. Therefore, I have been trying to gain practical experience with multilateral organizations, as well as to become more knowledgeable on various practical issues.  My first step in the field began with my internship at the UNHQ in New York, whereas I worked on post conflict issues. Work at the HQ is obviously interesting; however, I was lacking field experience and was searching ways for complementing it. This was the time when I learned about the JPO Programme at the OSCE and decided to apply. I was a JPO at the OSCE in 2019. 
What was your experience at the OSCE like? What was a typical day during your assignment (s)?
While based at the OSCE Secretariat, I got a chance to work on diverse tasks. I served at the Office of the Special Representative and Co-ordinator for Combating Trafficking in Human Beings (OSR/CTHB). While there, I was responsible for drafting reports on OSCE Permanent Council's weekly meetings with particular highlights on CTHB issues. On top of that, I carried out research on different subjects and occasionally fulfilled administrative duties, as needed.
During my field assignment, my duties varied from joining the Mission's military members in monitoring activities and contributing in post factum reporting to researching on issues related to the Transdniestrian Settlement Process.  
Where are you based now and what do you like most about your current job?
 After concluding my JPO term with the OSCE, I have been temporarily placed at the OSCE Mission to Moldova, at the Conflict Prevention and Resolution Programme, and accordingly, I am based in Chisinau. My favorite part of this assignment is conducting research on issues and best practices relevant to the Mission's mandate.
What type of advice would you give to applicants considering international civil service?
I think applicants should have well formulated a goal they aim to fulfill at the time of entering the service. At the same time, they need to able to demonstrate flexibility in terms of reaching their goals, as sometimes their career journey may take a different path as they expected. My advice: embrace the unexpected! International civil service is a never-ending learning experience!