Elena Gjoreska
Project Officer, Southeastern Europe and West Section - OSCE High Commissioner on National Minorities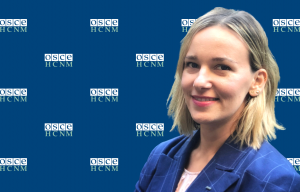 To listen to Elena talk about her experiences at the OSCE HCNM, click here for the webinar Focus on HCNM. 
Tell us about your background and career journey prior to the OSCE?
Like many others, I started building my professional experience doing internships while still in university. Once graduated, I had an opportunity to work in the government sector in my country, and then moved into working on research and analysis, before joining a field mission of an international organization. I think that this diversity of both thematic and geographic experience is what contributed towards my arrival at the HCNM. I was super excited to join the HCNM as a way to combine my natural motivation to work in conflict prevention and integration, with my passion to do meaningful work with a visible impact.
What is your role at the HCNM? What's interesting about your job?
I am the Project Officer in the section covering primarily South Eastern Europe and the west. My role is to identify, develop and implement, together with the section advisers, projects and programmes that would help in advancing HCNM's objectives and support participating States to governing their diverse societies. The HCNM is a conflict prevention mechanism, and not a 'project' based organization. Therefore, what I find interesting and challenging about my particular role is to translate the aims of the organization into practical interventions, to find new ways to address big concerns identified by the HCNM with relatively small budgets, and to structure our support in a way that ensures collaboration and sustainability through local ownership. This requires knowledge, inventiveness and ongoing analysis of both the topics that HCNM focuses on and the specific contexts of the areas we work in. The nature of the job also enables me to continuously interact with a variety of actors in governments, civil society, community representatives and other international organizations. Most importantly, designing and implementing projects that operationalize the High Commissioner's advice enables me to see and feel that what I do has a real impact on the ground.
What do you like the most about working for an international organization?
Being able to do a job I love in an environment that I enjoy and enriches me is one of the things I appreciate most at HCNM. It is a privilege to work and learn from such a diverse team of colleagues. This exposure to the many different areas and contexts has made me a better professional and improved the quality of my work. What I enjoy most about working for the HCNM is that I have the opportunity to combine working on a policy-making level with doing practical and 'hands-on' work that has a direct and tangible contribution towards building resilient societies and promoting more inclusive and peaceful communities.  The scope and level of contacts that I need to maintain for my work, from participating States to colleagues in the Secretariat and field operations, as well as partners and beneficiaries, is very rewarding.
What would you recommend to individual considering a path like yours?
For anyone considering applying for a job at the OSCE, I would suggest to trust your passion and commitment to making a difference and don't get discouraged by the processes required to apply, compete for and ultimately be appointed to a position at an international organization. Try to combine the motivation to work for the organization with gaining practical knowledge and exposing yourself to field experience if given the opportunity. Many of the areas HCNM targets its project support in share similar diversity management challenges, so building your skills in programme management early on will help you translate them into any specific context later. In addition to this, the OSCE and the HCNM in particular, takes a collaborative approach to its project work and largely relies on cooperation with other actors on the ground. Building and maintaining your network of contacts is thus an important aspect of keeping your eyes out for potential job opportunities and will put you in an advantageous position towards advancing common goals once in the job. Finally, despite how challenging and frustrating building a career path can seem, persistence and grit almost always pay off. 
How do you feel the your role adds value to HCNM's mandate and/or to the comprehensive approach to security?
The added value of a Project Officer in a conflict prevention Institution such as the HCNM is to reinforce the political and policy objectives identified by the High Commissioner. When drafting advice and policies about conflict prevention today, it is important to keep in mind their changing nature and factors related to segregated societies. This is why it is important to focus on prevention and with this particular role, to invest in addressing specific concerns, bottlenecks or needs identified by HCNM analysis that other actors, donors or organizations might not have as their immediate target. Furthermore, projects add to the HCNM visibility and help advance the overall theme of managing diverse societies by tackling specific practical aspects of integration. Well-designed and targeted project interventions would address the intersection between promotion of rights and security which is at the core of the OSCE comprehensive security approach.