Ilknur Topcu
Information Security Officer - OSCE Secretariat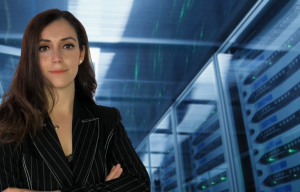 Please tell us about your professional background. Where have you worked before coming to the OSCE and what did you do?
As an Information Security Officer at the OSCE Secretariat, I am responsible for the management of OSCE-wide information security and for developing and maintaining an information security framework. My role involves the establishment of common information security policy, vision, objectives and principles across the Organization and the design and implementation of programmes on risk assessment, security assurance (compliance) and monitoring. I also act as the focal point for information security, contributing and coordinating OSCE wide on the approaches needed to secure the OSCE information security and facilitating the sharing of advice and knowledge. I represent the OSCE in UN inter-agency initiatives (e.g. United Nations Information Security Special Interests Group), working closely with Chief Information Security Officers across the United Nations.
Before joining the OSCE, I was the information Risk Manager at ING DiBa where I acted  as a trusted IRM –BCM advisor who directs, advises and supports the identification, analysis and mitigation of risks to the organization Before Joining the ING, I also worked as Senior Manager at Cognosec GmbH, which was one of the leading Cybersecurity consulting companies in Europe. Throughout my career, I have been involved in many international IS consulting and audit projects. 
Before my career turn into Information Security, I started my professional life in the financial audit expertise at the PwC where I have learned auditing principles, work ethics, time and stress management. I have continued my career as internal auditor for international subsidiaries of a private company. 
What's your academic background? How does it align with the career you developed?
I have a Bachelor of Arts in Business Administration.  In addition to management and finance education, I have enriched my knowledge on Information and Cyber Security with CISA, CRISC, PCI DSS Qualified Security Assessor and COBIT 5 Foundations certificates and with these trainings and certificates; I have specialized on information and Data Security.
Where are you based now and what do you like most about your current job at the OSCE?
I have been living in Vienna since 2012.  In my current position, I have the opportunity to work with different stakeholders coming from different culture and backgrounds about how best to improve the OSCE-wide information security and developing and maintaining an information security framework throughout the Organization.  I am coming from consulting industry, which is highly agile and dynamic, and I am dedicated to adding new perspectives and additional value to the ISC with this experience over 11 years. It an honor to be able to contribute to Information and Cyber Security issues in the world's largest regional security organization. 
What type of advice would you give to applicants considering international civil service?
After being a mother, my perspective on career has changed and I decided to be a part of an IGO. During that time, I met with the OSCE and decided to join in this amazing organization. I joined the Recruitment Boot camp organized by the Department of Human Resources in 2019. The Boot camp has made a huge change on how I refine my application to translate my experience in the private sector to an International Organization environment and prepare for the interviews. I highly recommend all the applicants to check Webinar Outreach Program to have a better understanding for the application process.
I definitely recommend that applicants look to the OSCE as an employer.  It is an amazing opportunity to work with people with so many diverse backgrounds from 57 participating States. Definitely, It is a different experience for the people who come from private industry, as it requires going beyond their comfort zone and adding a different dimension to the career path but the OSCE is an exceptional place to work and make a difference and you would be proud of being a part of this organization.