Lena Moll
Talent Management Officer - OSCE Secretariat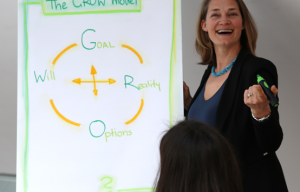 Lena Moll is a Talent Management Officer at the OSCE Secretariat. Her multifaceted role as a talent development specialist, facilitator, coach, and mediator at the Organization allows her to make a difference every day.
Tell us about your career journey so far. What did you do before coming to the OSCE?
I'm a lawyer by training and realized early on that I'm less interested in the legal aspects of conflict and more in the psychological and social aspects of it. I've been lucky to find and pursue my true passion: to support people in bringing out the best in themselves and their teams, and to provide platforms for organizational development.  As a talent manager, facilitator, coach, and mediator with the OSCE, I have the opportunity to do so every day.
Before I joined the OSCE, I went from practicing law to working on human rights issues with women NGOs in Africa, to managing change projects as a Management Consultant, to setting up the Staff Development Unit at the Office of the High Commissioner for Human Rights.
How do you make an impact at the Organization?
I provide opportunities and safe spaces for managers and staff to learn, connect, network, create synergies, and develop themselves and the environment around them, for the OSCE to be an empowering place to work.
What are the current offerings for development at the OSCE, particularly for women?
Our offerings cover a wide range of learning nudges, programmes, coaching opportunities, online – and face-to-face courses. Since we're transitioning to a "continuous learning" culture, our offerings are learner-centred and tend to combine elements of learning on the job, social learning, and structured sessions.
A great example for this is the "Mentoring Programme for Women". An amazing group of 118 mentors and (female) mentees from 25 OSCE offices meet at a kick-off event, come together for webinars, are provided with mentoring materials, and meet regularly in their mentoring pairs. The energy this is creating, the networks this is forming, the discussions around gender that emerge, the feedback we receive – all of this tells us that we're on the right track.
Other programmes that are open to men and women include a gender and diversity component, such as the management and leadership development programmes that address unconscious bias, inclusive decision making and gender responsive management. In other words, although these offerings aim at developing men and women alike, they contribute to changing the working culture in a way that directly benefits women.
What application tips would you give women interested in applying for the OSCE?
Apply with self-confidence, even if you don't meet 100% of the criteria. In your application, showcase your achievements, use numbers to support them, and use the key words from the vacancy notice. At the interview, show an authentic best version of yourself.
 
But most of all: Prepare yourself by following the useful tips, videos, and webinars that our Recruitment Unit makes available online. 
How would you describe the value the OSCE added to your career journey so far?
My time with the OSCE has been rich, rewarding, joy-filled and altogether priceless for my career and for my life. I particularly appreciate that self-driven people who come with fresh ideas thrive at the OSCE.  My experience has been that I am treated as an expert, regardless of pay grade. When I coach an Ambassador, when I moderate a meeting with senior managers – we have different roles, we are all experts in our field, and I don't feel the hierarchy. Also, my network of professional contacts of people from all walks of life has grown tremendously as a result of my work here.
What's your take on work and life balance?
I have two children (now 11 and 9 years old). When I started working with the OSCE they both still went to pre-school and my husband was working abroad for most of the time. So I was a de-facto single working mom for several years. I love being a mother and I love my job – and I had to learn to prioritize, strike the right balance, and to look after myself. For a while, I was working through every lunch time (because it was my only buffer), working some more after I put the kids to bed – and at some point just "functioning".  Obviously, this was not sustainable and I found myself with a slipped disk and an exhausted mind. My body forced me to make some changes and I made a point to make lunch times 'Lena-time'. I started to go running two lunch times a week, plan phone calls with friends and family during others, go out for lunch with colleagues – whatever felt good. This small change worked wonders for me and set in motion more changes, and the realization that it is possible to have a healthy equilibrium among the different roles in my life. I find the supervisors in my hierarchy, my working environment, and the flexi-time policies at the OSCE very supportive in this respect.