Martina Garbuglia
Senior Democratization Officer - OSCE Mission in Kosovo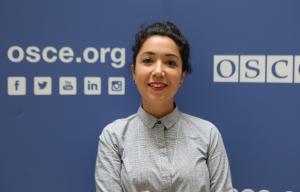 Please tell us about your professional background. Where have you worked before coming to the OSCE and what did you do?
My professional background includes multiple assignments with International IDEA, a leading intergovernmental organization involved in electoral and democratic support. In this role, I have collaborated with prominent electoral experts for developing the publication "International Obligations for Elections, Guidelines for Legal Frameworks" and developed research works on democratic accountability in service delivery.
While serving within the NGO 'European Center for Electoral Support', I gained practical experience in formulating and implementing electoral assistance projects, mainly funded by the EU. 
I have also participated in several election observation missions and collaborated with key actors in this field (EU, Carter Center, Democracy International, NEEDS and EODS projects, ODHIR, ACE Electoral Knowledge Network etc.).
What's your academic background? How does it align with the career you developed?
I have a Master Degree in Development Studies from the Université Libre de Bruxelles (Belgium) and a Bachelor degree in Political science from the University of Political Science of Macerata (Italy).
Where are you based now and what do you like most about your current job at the OSCE?
In my current role of Senior Democratization Officer (SDO) within the OSCE Mission in Kosovo- Regional Center in Prizren, I supervise democratization related portfolios at regional level. In my role, I monitor local governance at large and develop targeted activities to address identified shortcomings and address requests of support from local counterparts. As SDO, I analyze and monitor women's representation and participation in political life, assess the key challenges and advise/advocate with local governments to ensure legal compliance and adequate implementation of legislation and international standards. Additionally, I contribute to ensure that gender aspects are meaningfully included in the programmatic work of the Mission at regional level. Being the youth focal point of OSCE regional center, I am in charge of analyzing political representation and participation of young people as well as associated challenges, in order to propose relevant corrective measures to local interlocutors.
What I appreciate most of my work is the positive impact that we are able to achieve by interacting constructively with local interlocutors and counterparts. Dialogue and constant exchange are at the core of my work.
I am particularly proud when team efforts lead to tangible results, which entail an improvement, even a tiny one, in the every-day life of people.
What type of advice would you give to applicants considering international civil service?
I would definitely recommend that applicants look to the OSCE as an employer.  It is a good opportunity to work with multicultural teams and appreciate the value of diversity. Additionally, it is also a great opportunity to be exposed to a wide range of subject matters while promoting shared values and objectives.