Nora Vanaga
Associate Project Officer, Forum for Security Co-operation - OSCE Secretariat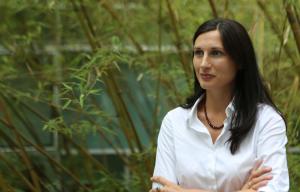 I worked at the Ministry of Defence of Latvia dealing with defence planning issues, EU defence policy initiatives, and the OSCE. For seven years, I held the position of senior researcher at the Centre for Security and Strategic Research at the National Defence Academy of Latvia, where I focused on small states' defence strategies, EU defence policies, conflict resolution, and arms control. I have always been passionate about security-related topics and focused my academic and professional careers on these issues.
My path crossed with OSCE for the first time in 2016 when I was invited as a speaker within the Structured Dialogue process. My topic was the threat perception of the Baltic States. After that first experience, I became a regular guest to events dealing with confidence building measures and arms control. My interest in working at the OSCE only increased as I became more and more familiar with the Organization.
I have always been curious and eager to learn. I decided to pursue studies in the field of political science at the University of Latvia at the same time I was working at the Ministry of Defence. I ended up getting a doctoral degree in security studies, which is highly relevant to my position now. The experiences of being a civil servant and a senior researcher gave me unique opportunities to delve into varied security topics at the academic level while keeping the policy-makers' perspective. This certainly gives me great insights and a unique perspective on my current job! The practical relevance of my research has been always a key element in my work. That's why working at the OSCE is so special to me for I can leverage the expertise I've built over the years on the Baltic States and extend it to other regions.
In August of 2019 I joined the team at the Conflict Prevention Centre/Forum for Security Co-operation Support Section that deals with projects on Small Arms and Light Weapons/ Stockpiles of Conventional Ammunition (SALW/SCA) among many other important activities. I find this role to be a natural progression in my professional career. First, because I have the opportunity to gain tremendous exposure to the international environment while contributing with my knowledge and experience. Second, the SALW/SCA team is dealing with concrete projects assisting participating states in disposing, reducing and safely storing SALW and ammunition, and thus delivering specific results. So at the end of the day, our hard work is rewarded with tangible results. That's what makes the OSCE such a special place for anyone considering a job that makes a difference!
My advice to anyone considering international civil service would be – despite the heavy competition and possible disappointments during the application process for any international organization, do not give up! Working as an international civil servant and at the OSCE is absolutely worth it! I find the OSCE to be an essential platform where very different countries engage and come up with consensus on confidence building measures on important issues such as security, cyber, environmental, gender and much more. Also when it comes to conflict resolution, it is a vital forum for keeping the dialogue among conflicting parties when all the other channels are frozen. Lastly, the OSCE has a set of preventive measures that enhance regional security and stability. Considering the wide spectrum of topics that the OSCE covers, chances are that anyone working here will have the experience of a lifetime.