Anita Nicoleska
Senior Programme Assistant - OSCE Mission to Skopje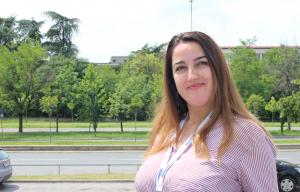 As a Programme Assistant at the OSCE, I have the pleasure of working directly with national authorities in my country to help them implement programmes and activities. I support the Mission to Skopje in jointly working with various stakeholders towards a comprehensive approach to security. Joining the OSCE has been one of the best moments in my professional life and I am proud to be part of the OSCE family. Our organizational values are in line with my personal ones, and to me, that makes for a perfect match.
Prior to joining the OSCE, I worked as an  Adviser/Training Coordinator at the National Association of Municipalities ZELS here in North Macedonia. Because of my previous position, I had the opportunity to meet and collaborate with OSCE staff. As I got to learn more about the Organization, I decided that this was the place that I would like to be next. The OSCE really focuses on its people and for me this is a great competitive advantage of the Organization compared to other places of employment.
I know that my work makes an impact when I see the programmatic/project activities and plans being implemented by our counterparts in my own country. I am always excited to see the positive results of our daily work, but when things do not necessarily go as we intended, I stay motivated to make things happen. I am engaged in supporting the Mission in discussions with national authorities to help their efforts in making my country a safer place. This by itself is a huge motivating factor for working at the OSCE for me. 
In my office, management is really invested in diversity, flexibility, and in keeping people motivated. Hence,  in a supportive environment, it has not been difficult to balance work and life engagements. Aiming to further support my own colleagues in managing various work-life aspects, I have joined the Mission's Staff Committee. I have been their staff representative for the past five years. This has been a great experience and a great role to further support my coworkers. I started at the Organization within the Human Resources team, but later found opportunities to gain new skills and to enhance my portfolio. Now I work in security at the Public Safety and Community Outreach Department.
What I learned about myself working for the OSCE is that the greatest joy of work comes from working in a team. The more you support your co-workers and your counterparts, the better the results are. Working at this organization, I learned that you can succeed best by helping others to succeed. What I learned about other people, while working with my colleagues, and with our counterparts, is that diversity enriches our work and drives higher impact.  I have heard once that "The strength of the team is each individual member. The strength of each member is the team." And I see this on a daily basis working for this Organization. 
If interested in an unique work experience that makes a difference in people's lives, you should join us.