Ivana Markovic Boskovic
Economic and Environmental Officer - OSCE Centre in Ashgabat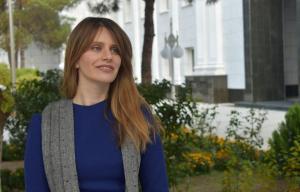 I joined the OSCE Mission to Montenegro as an environmental expert, previously working in the Agency for Environmental Protection of Montenegro. Montenegro is the only country in Europe constitutionally declared as an Ecological State due to its unparalleled beauty and biodiversity. I was privileged to join the Mission`s excellent team of international experts, sharing their knowledge and experience not only in the environmental field but also other fields such as economic and democratization. I can proudly state that, in close co-operation with the governmental institutions of my country, we managed to introduce critically important changes that advanced the concept of sustainable economic development and environmental preservation in Montenegro and strengthened the transparency in its decision- making processes. That was the continuation of a process to achieve the highest international standards in the field of good economic governance and environmental protection in Montenegro.
After seven years working in the OSCE Mission to Montenegro, the OSCE provided me with the opportunity to share my experience and knowledge with other OSCE participating States, and I am currently managing the Economic and Environmental Programme in the OSCE Centre in Ashgabat in Central Asia.
Even if the economic and environmental conditions are completely different from the ones in the Western Balkan, the OSCE principles and policies are the same across the OSCE region. I am privileged to work at a Field Operation where the government of the host country is very much in support of regional development, economic connectivity, advancing the renewable energy sector, environmental protection and integrated water resources management. One particular challenge and interesting aspect of my work in Turkmenistan is our assistance in advancing dialogue among Central Asian countries and Afghanistan on strengthening economic connectivity through good governance standards, trade and transport facilitation- as a tools that contribute to confidence- building, security and trust in the OSCE area.
Working in the field is exciting but challenging at the same time. It requires a lot of sacrifice and dedication but concrete results in work outweigh all shortcomings. I would encourage all, particularly those who are about to start their professional career, to use the opportunity that the OSCE provides and apply for positions within the organization, especially in the field operations.