Victoria Buchok
Chief, Fund Admnistration Unit - OSCE Programme Office in Dushanbe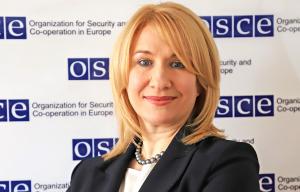 Victoria Buchok is the Chief, Fund and Administration Unit in Dushanbe. She started her career in the finance area and has gained extensive experience in the non-profit sector. When she decided to change careers, she looked to the OSCE for opportunities.

My story with the OSCE is quite entertaining. Since 1994 I worked for various international non-governmental organizations in various administrative positions. I started my career as a Financial Manager at Mercy Corps and progressed to being a Finance Director at Population Services International. In June 2008, I decided I needed a career change. I remember being in a car on my way to work and noticing an OSCE car stopping next to mine. That evening a friend of mine told me that the OSCE had published an interesting vacancy for an administrative position. The position was intricately called the Chief of the Fund Administration at the OSCE Project Co-ordinator in Uzbekistan. After some hesitation about whether or not I was qualified I finally decided to apply. I submitted my application practically last minute before the deadline. To my surprise, I was invited for an interview and a written test and soon after I was offered a position.

I truly love what I do. My job provides me with an invaluable opportunity to work in a very dynamic, multinational, and culturally diverse environment. My colleagues come from a very diverse  set of backgrounds, both professionally and personally. The management is always very supportive. The workflow is very well structured through rules and regulations, which allows me to solve a lot of issues every day and ensure efficient work of my office. It gives me an impression that everything is very well thought through, and I really enjoy that aspect. This presence of good structure might lead you to thinking that my job is very predictable. It is exciting, however, that despite the seeming predictability I never get bored. There is always something interesting happening, and, in one way or another, everyone is constantly growing professionally.
 
I am pleased to admit that I am able to make independent and well-informed decisions. I enjoy feeling like an important part of the team and of every decision made at the office. It is a really great feeling. I really enjoy receiving feedback from my colleagues, and they note that I seem to always find the solution even in the seemingly unsolvable situations. I also learnt about myself that even when I struggle to find an answer, I openly but delicately admit it and thank my colleagues for all the help they provide in finding it.
 
My advice would be to believe in yourself and in your team. There is never a problem that does not have a solution, and it is important to always work together to find it. It is also important to ensure that the solution you end up finding does not contradict the rules of the Organization. In my position it is very important to emphasize the fact that there are rules that need to be followed in order to ensure efficient workflow.
 
If you are thinking about it, you should definitely apply for a position at OSCE. The work here is very interesting and exciting. The Organization and the work it does is amazing. Working for the OSCE creates many opportunities for personal and professional growth as well as conditions for working in an environment that brings much fulfillment. I am very proud that I work at the OSCE and encourage anyone interested in making a difference to look for our opportunities.