Albina Yakubova
Programme Management Officer - OSCE Secretariat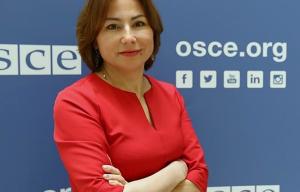 Tell us about your career journey and how you came to the OSCE.
I had my first job as a clerk with the Tashkent City Prosecutor's Office while I was still doing my Master Degree in criminal law at the Tashkent State Institute of Law. One day I could have become a prosecutor but the life circumstances changed my career path.   
Before joining the OSCE family I worked in different capacities as a National Project Coordinator and a Terrorism Prevention Expert at the United Nations Office on Drugs and Crime (UNODC) Regional Office in Central Asia as well as Associate Crime Prevention Officer at UNODC Headquarters in Vienna.
The year 2012 became a significant milestone in my life. I had to face the life and career challenges when my son's and my future became solely depended on me. A Programme Management Officer position within the OSCE's Transnational Threats Department sounded as a suitable job opportunity. I applied for it, went through a tough competition and now I'm part of one of the best teams in the OSCE, contributing to the global efforts against crime. I am thankful to the Organization and my supervisors who believed in my strengths, helped to expand my expertise and grow professionally.  
What has been the most exciting part of working at the Organization?
I enjoy conducting training sessions and workshops on border security and management because they provide opportunities to develop new connections and even friendships with professionals at different levels. It is very exciting to learn about different cultures from all over the OSCE area. The Organization also encourages professional development and offers a number of training opportunities for the staff. One of the best experiences that I ever received was the IATA training on behavioral analysis and predictive screening sponsored by the OSCE last year. I already applied the gained knowledge and materials in several training courses and received a lot of positive feedback.   
What have you learned about yourself while working in this capacity?
I can adjust myself to a new environment easier than I thought.  I learned to be multitasking and more effective in communicating with colleagues and external partners on different levels. This is a great value for those working at this Organization.
What career advice would you give to women across the OSCE Region considering opportunities in international civil serice?
I have played tennis for many years. Like in any competitive sport, if you want to be successful in your job you should work hard, believe in yourself but also follow your coach's advice.
What would you recommend to any women considering an application for a job at the OSCE?
Thorough my life I have met many women - role models who build successful careers while being good mothers and partners at the same time. My mother is one of them. When you know what you want to do with your career - it's 100% worth investing your time and energy for achieving your goal.  But be prepared that career development especially in the international organization like the OSCE takes time, dedication, outstanding communication skills and a whole lot of learning.