Altynai Myrzabekova
Media Focal Point - OSCE Special Monitoring Mission to Ukraine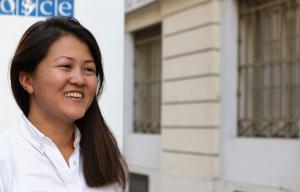 I was inspired to work with the OSCE because it allowed me to combine my experience and interest in both media outreach efforts and peace-building activities. Through my role as a Media Focal Point in the Mission, I feel that I am directly contributing to the peace-building process, as I collect and write stories to highlight the Mission's role in monitoring the conflict and facilitating dialogue. I have been closely following developments in Ukraine since the very beginning of the conflict, and have been watching how the OSCE Special Monitoring Mission to Ukraine (SMM) played a significant role.
As a Media Focal Point, I have to think strategically and develop both short-term and long-term strategies for the Western Ukraine offices. My day starts with media monitoring and briefings where we share the latest developments in our area of activity. Then I work on media inquiries and provide the teams with advice and support on media engagements and outreach activities. Most days, I meet with local and national journalists, briefing them about the Mission's role. Very often I join patrols and talk to local citizens, authorities at all levels and internally displaced persons.
I have always wanted to work in the media and was a practicing journalist. My interest in conflict resolution and peace-building came later, when the revolution and an inter-ethnic conflict erupted in my home country of Kyrgyzstan. I then decided to further my education and dedicate my work towards both media and peace-building.
The most exciting assignments I undertook were two feature stories – one on the role of women in peace-building in Ukraine, and another on how internally displaced persons are forced to leave their homes due to the fighting and are subsequently integrating back into society. It was a rewarding experience and allowed me to cover a topic I find important. We work hard to deliver information and explain our mandate to the general public. We report what we see. At times, there can be different expectations – but our reporting work on the ground is essential.