Aliya Orazbayeva
Assistant to Head of Programme Office - OSCE Programme Office in Astana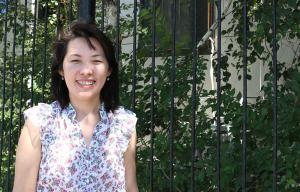 After moving from Uzbekistan to Kazakhstan with my family in 2003, I decided to refocus my professional interests. That's when I enrolled in the Master's degree in International Relations at the Kazakhstan Institute of Management, Economics and Strategic Research (KIMEP). Once I completed my degree, I became very interested in immersing myself in this new "international relations" environment. I found the right opportunity to apply my newly-gained knowledge at the OSCE. I am a proud team member and my role is to assist the Head of the OSCE Programme Office in Nur-sultan in his everyday activities. 
What I like the most about my job is organizing events, particularly high-level visit and various meetings with the Office partners including local and international stakeholders.  When I have a task, I put great attention to its planning part first, so all activities can be implemented it in a smooth way.  Of course there are moments when something doesn't go as planned, but in our supportive environment,  we deal with these situations in a calm and professional manner.  Here at the OSCE, we can always rely on the support and advice of our colleagues. 
Prior to the Organization,  I worked as a Human Resources Assistant at the Regional Telecommunication Company in Uzbekistan and then as a Sales Manager at Internet Provider Companies. Throughout  these positions, I got experience in drafting official documents such as internal memos and letters and in liaising with customers. Over the years,  I improved my communication skills and acquired  experience in working with people of various cultural backgrounds. Later,  at KIMEP University, I was responsible for organizing  schedule of many lecturers' in the Political Science Department. These experiences helped me develop my strong organizational and planning skills, as well as my ability to pay attention to details and negotiate to achieve results. The skills and abilities I developed over the years help me today work effectively in my current position at the OSCE. 
For me the OSCE is unique because of its mandate and multicultural environment. I also enjoy the warm atmosphere at the office and the friendly relationships between the colleagues in our team. Besides being a very pleasant and comfortable psychological environment in which to work and develop, our Programme Office is very flexible and always open for discussion and communication with our partners in Kazakhstan. 
I would recommend anyone considering an application at the OSCE to learn more about the Organization first, understand its values and goals and not forget to focus on enhancing your soft skills. Most importantly,  be optimistic and believe in yourself.