Valiant Richey
Special Representative and Co-ordinator for CTHB - OSCE Secretariat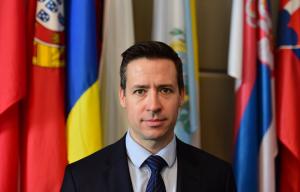 I am the the OSCE Special Representative and Co-ordinator for Combating Trafficking in Human Beings. My role entails representing the OSCE at the political level on anti-trafficking issues, and assisting the 57 OSCE participating States in the development and implementation of anti-trafficking strategies and initiatives. The Office also has a co-ordinating function among OSCE structures and institutions involved in combating trafficking in human beings. I have a Bachelor of Arts and Master of Arts in Political Science from Boston University and a Juris Doctor from the University of Washington.
Prior to joining the OSCE, I worked for 13 years as a prosecutor in Seattle, United States, handling sexual assault, child exploitation and human trafficking cases. I also led a coalition of public and private sector stakeholders in combating human trafficking and was appointed by the Washington State Attorney General to represent prosecutors on the Washington State Trafficking in Persons Coordinating Committee.  Before becoming a prosecutor, I managed a public office in Washington State which provided policy and fiscal analysis to the Legislature.
One of the many things I have admired about the innovative work of the OSCE has been the capacity to lay the foundation for ground-breaking policy action across 57 states. I am proud of our work combating trafficking in supply chains, exploring the intersection of trafficking and technology, addressing child trafficking, countering impunity through better prosecution, and building better partnerships.
Human trafficking feeds off vulnerability —in particular, gender and economic inequality — and it is a symptom of frailty in our society. It is precisely when our global community is shaken by a crisis that our obligation to combat the exploitation of vulnerable people becomes most acute. Where trafficking goes unchecked and impunity reigns, the rule of law is undermined and the security and safety of all citizens, especially the most vulnerable, is threatened. For this reason, combating human trafficking is not just a law enforcement responsibility. It is a human, societal and security imperative, and an urgent priority.
The OSCE has provided me a fantastic opportunity to make a difference at the multilateral level. I am very proud of the hard-working team I am privileged to lead as well as of the many talented colleagues who support the Organization's comprehensive approach to security. I would highly recommend anyone who is interested in international civil service to consider opportunities at the Organization.