Amar Aljović
Training Assistant - OSCE Mission to Bosnia and Herzegovina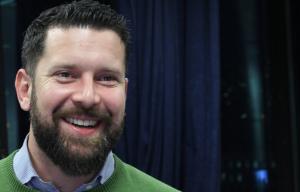 I came to the OSCE with a very unusual background: working as a graphic designer, studying at the Academy of Fine Arts in Sarajevo. While the OSCE helped me to acquire new skills, it also gave me room to apply these talents in my position. Back in 1999 when I started, we used to be a huge mission with around 1000 people. Now there are about 370 with me being the only person in the Mission dealing with training full time. Although my job title remained more less the same, my role and duties changed significantly as I took much more responsibilities over the last years.
My job is offering new skills to our staff. Every year we complete a training needs assessment to decide in which direction we need to move. Based on this, I design a training plan and find training providers within or outside the organization.
I came up with a project to help those who had to leave the organization get back into the job market. Four years ago the Mission in Bosnia and Herzegovina (BiH) started the process of downsizing and restructuring, and this was the training our staff needed the most. The programme took several months and included courses and internationally-recognized certification in computer skills and the English language, and workshops on how to find a job in BiH and the EU. Staff were also advised on how to start their own company or NGO. For those who have been working with the OSCE for the past 10 years it's very useful. With about 150 people who took part in it during the past three years, the programme proved to be very successful and was recognized across the OSCE.
It is the greatest reward when I meet my former colleagues who were part of the programme I initiated and are now successful somewhere else: some of them started their own companies; others found work in different international organizations.
I also got to try for myself in other areas of the OSCE's work. I did five rounds of election observation in the Kosovo Mission over the last three years and spent a month and a half working in the OSCE Secretariat. It was a great opportunity, trying something completely different from what I am used to.
What I enjoyed the most when I came to the OSCE was constantly meeting new people from different cultural backgrounds from all over the world. I've been working with most of the people in the Mission for years, so they really became my second family.