Selma Zekovic
National Chief of P/CVERLT - OSCE Mission to Bosnia and Herzegovina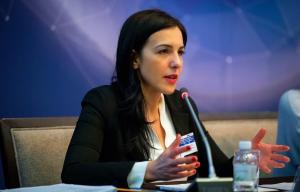 Before joining the OSCE, for more than 10 years I worked with the United Nations International Police Task Force, European Union Police Mission and the International Organization for Migration. As a young developing professional, I was provided with the opportunity to contribute to the highly relevant and very important work these organizations have been doing in supporting Bosnia and Herzegovina to achieve stability and fulfill its international obligations and commitments. While working in various positions, I have gained knowledge of the internal functioning of police as well as experience in monitoring human rights compliance while working on police reform in Bosnia and Herzegovina. The work I was doing was very rewarding as I was involved in the area of security sector reform, support to various state institutions and their capacity building – inter alia the Ministry of Security, various ministries of interior in BiH, Ministry of Foreign Affairs, Ministries of justice, Service for Foreigners Affairs, Border Police, Ministry of Defence, etc. For two years I worked on a major comprehensive project in the field of migration management, and my role was to help the government of BiH to set up a Detention Centre for Irregular Migrants, respecting all international obligations in the field. I also managed project assisting BiH government to develop its first ever Strategy on Migration and Asylum.   
I have a Bachelor of Economics and Master's degree in political science from Sarajevo University. My education helped me in doing substantive work in various fields, as well as project and staff management. I am devoted to life-long learning and the OSCE has been supportive in providing ample of opportunities for professional development. My OSCE journey started in 2008 and has taken me to several highly challenging and demanding positions in various dimensions of OSCE's work. Working in the human dimension at the beginning of my OSCE tenure provided me with greater insight on the importance of human rights compliance and rule of law based approaches in the OSCE's engagement.
The comprehensive approach to security has ever since allowed me to work in the areas that I am passionate about.  Working as an Anti-Trafficking Officer allowed me great insight on the necessity to involve a wide range of stakeholders to prevent and combat such crimes, using victim-centered approaches. It also made me see how the OSCE's soft power and broad presence in the field, as well as policy and political guidance from the Secretariat and other structures, can play an immensely important role in our every day work.  My OSCE path lead me to the OSCE Mission to Kosovo in 2013, where for two years I managed the portfolio dealing with issues relating to hate speech and freedom of expression. Before returning to BiH, I managed the Mission to Kosovo Tolerance and Non-discrimination Section.
In 2015, I took an opportunity to manage the program on prevention and countering violent extremism and radicalization leading to terrorism (P/CVERLT) from its very beginning in the OSCE Mission to BiH. It was a pioneer project in BiH as well as in the OSCE region, using whole of government and whole of society approach. I started as a Project Officer and was selected as Chief of this thematic portfolio in 2018.  The portfolio grew over time and now we are team of five people, working on providing policy advice to authorities at different levels, as well as implementing project streams that involve security sector, social services, education authorities, media, religious communities, women and youth organizations, etc. This job still excites me because it combines everything I have been doing to date and I can see the change that we are making on the ground.
I have also been assigned with the role of Acting Head of Security Co-operation Department in the OSCE Mission to BiH for 18 months, where I oversaw the design and implementation Mission's First Dimension programmatic activities, including counter-terrorism, P/CVERLT, arms control, cyber security and border management. In 2017 I was on a temporary assignment in the OSCE Secretariat when I drafted Secretary General's second annual report on OSCE's activities in line with 2015 Ministerial Declaration on P/CVERLT. As you can from my career journey at the Organization so far, we have plenty of room to grow across Field Operations, Institutions or the Secretariat.    My OSCE journey has been both: challenging and rewarding. It gave me the opportunity to contribute to effecting positive change on the most challenging security matters the world is facing today, while also being able to develop my own skills and competences and progress in my career. I have had an opportunity to work with and learn from amazing colleagues, as well as to enjoy support and leadership of the management team.
I would like to encourage those who are looking for new challenges to consider applying for positions in the OSCE. It is a unique employer that allows professional development while working on a broad range of subjects. The Organization pays due consideration to the gender perspective and provides opportunities for women in management. My journey testifies to that, as well as the fact that majority of the most senior positions in our Mission today are performed by women who are true inspiration to all of us.