Neda Noveljic
- OSCE Mission to Montenegro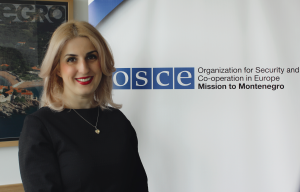 What's your role at the OSCE? Where have you worked before?
I joined the OSCE Mission to Montenegro as a Human Resources Assistant in 2018. I am responsible for a wide range of human resources activities, including talent acquisition –which I love.  After graduating in English language and literature, I worked on several projects managed by the European Agency for Reconstruction, followed by working for the national broadcaster in administration and human resources. In 2013, I joined an international recruitment network, which ignited my true love for recruitment.
What specialties do you typically recruit for?
In line with the mandate of the OSCE Mission to Montenegro, I recruit professionals who specialize in election administration reform, parliamentary processes, combatting corruption and organized crime, law enforcement and security sector reform, strengthening human and minority rights, gender mainstreaming, youth initiatives and building media professionalism.  Among the many positions we have available, we also have international and local consultancies.
How would you describe the work environment at the Mission?
The Mission to Montenegro is a  very efficient and well-organized working environment. Even though it is a small mission, we are very busy and each individual has an important role to play. Dynamic working positions in such a compact working place provide opportunities for us to master a wide range of skills, which adds to our career journey. One is always able to grasp the whole cycle and full picture, rather than to be limited to limited a piece of work, and that brings additional joy and pride when seeing the results.
What do you like the most about working at the OSCE?
The constant inspiration for improving, learning and becoming better at what you do, resulting from the well-established learning culture within the OSCE is one of my favorite things about working here. Concrete learning opportunities are amply made available to the employees. This goes hand in hand with leadership and management programmes, which inspire our leaders influence the workplace culture positively and effectively via social learning. I also value the commitment of ensuring gender mainstreaming at all levels of staffing within the Organization.
What would you recommend to potential applicants?
Take your time to prepare well, from submitting your application to the interview. This should be a conscientious and dedicated process if you want to eventually find a job with us or any other international organization. Your professional future deserves such treatment. The OSCE offers a wide range of interactive materials, such as webinars, tips and documents aimed at helping our applicants understand the employment opportunities, create relevant applications and prepare for what follows.  I would encourage any potential applicant to make use of these available resources.
For opportunities at the OSCE Mission to Montenegro, follow Neda on LinkedIn.