Nargiza Bogombaeva
Operations Co-ordination Officer - OSCE Special Monitoring Mission to Ukraine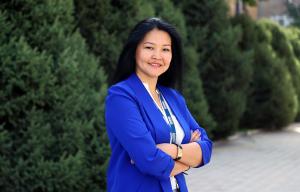 I studied international relations and my goal was to work in an international organization where I could put my academic knowledge into practice and make a difference in the real world.I started my career with local NGOs, which co-operated with the OSCE. Before joining the OSCE, I worked as a Finance Manager for the Central Asian Regional NGO, an OSCE implementing partner within Economic Environmental Dimension for 3 years.This is how I learned about this Organization and was very keen to become part of it. I joined the OSCE Programme Office in Bishkek in 2014 and worked first with the Fund Administration Unit and a year later got promoted to the post of National Executive Officer in the Office of Head of Mission.  In this capacity I developed and maintained strategic partnerships with the Ministry of Foreign Affairs, and built relations with international organizations based in the country. I particularly enjoyed organizing high–level visits of the OSCE Secretary General, Chairmanship in Office and advising senior management on protocol matters.
In October 2019 I joined the team of Operations Unit at the Special Monitoring Mission to Ukraine as an Operations Co-Ordination Officer. In my current position, I deal with co-ordination of the visits of the monitoring teams at the Special Monitoring Mission to Ukraine and facilitate the deployment of new monitors. I am confident that my prior experiences at another OSCE field operation will help me with this new assignment.
If you want to become  a part of the OSCE, be positive, open minded and continue applying for jobs. Believe in yourself and you will definitely find your place in international civil service.The OSCE is a great employer, which gives opportunity to grow professionally, network with experts from different countries and to get involved in multilateral diplomacy. I would like to particularly encourage female candidates to apply for opportunities at the OSCE. The more women we have in managerial roles the stronger and more secure we are.