Gulnara Mukanova
Senior Finance Assistant - OSCE Programme Office in Astana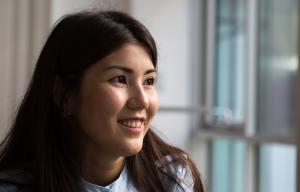 I was inspired to become part of the OSCE because I see it as my small contribution to the development of my home country of Kazakhstan, where the mission addresses political, economic, and humanitarian issues. I knew the OSCE through working at the British Embassy in Astana, where I worked as an Accounts Officer. I had heard about the benefits of working in the OSCE such as their competitive remuneration policy, on-the-job training, and flexibility, so when I saw the job advertised on the website I just applied; I later received the job offer on my 30th birthday which was the best gift I could have received!
My working day starts at 8:45am, and I spend the mornings processing payments and responding to urgent requests. Later on in the day, I update our long-term projects, do reconciliation, and check the progress of our purchase orders. I also spend time checking our implementing partners' financial reports, as well as downloading general financial statements and reports.
What I like most about working as a Senior Finance Assistant in the Programme Office in Astana is that it is a small mission, which gives me the opportunity to be involved in a variety of areas such as accounts, the treasury, budgeting, and project management. I get the chance to improve my knowledge and experience in everything in our unit, and I get to see the results of my work on a daily basis.
Working in a small mission for an international organisation means that the environment is very friendly, and people try to help each other with their work. For example, the Fund Administration Unit staff has to monitor the smooth delivery of all administrative and financial processes within the OSCE mission, but at the same time we are also have a nice connection to the programme staff. I think the good thing in my office is that we are like a family, especially when you are only 28 people!