Ola Quarnstrom
Rule of Law Officer - OSCE Office for Democratic Institutions and Human Rights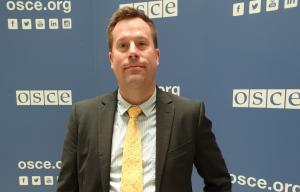 I have known I wanted to be a lawyer since I was young. When I went to law-school in Sweden, I always thought I would spend my entire career in the domestic legal system. However, when I went to study at the University of Melbourne I learned more about international law and development. I met with other lawyers who used their skills to work on international peace and security. This was an eye-opening experience, and I wondered if it would be possible for me to do the same one day. At the OSCE, I get to do just that!
After university, I did an internship at the International Criminal Tribunal for the former Yugoslavia. Following that, I moved back to Sweden and completed a clerkship with a domestic court before I moved on to working for government agencies with penitentiary and migration issues. In 2013, I got the chance to work for the EU Rule of Law Mission in Kosovo with human rights issues and in 2016, I moved to a similar position in the EU Mission in Ukraine.
In June 2019, I was fortunate enough to get a position within the Rule of Law Unit at the  OSCE Office for Democratic Institutions and Human Rights, also known as ODIHR, which is based in Warsaw. We are a small team, but we are working on some fascinating issues. Rule of law is an integral part of any democratic system, so ODIHR has a very important role to play in this regard. The best part of my job is that I get to learn a lot and contribute to positive changes in the OSCE participating States.
I see many young professionals trying to go straight from university into international organizations. Often this road goes via numerous internships, fellowships, consultancies or other short-term engagements. When it comes to advice, there is no magic formula to getting your career started at a multilateral organization. What worked for me may not work for everyone else, but I would encourage any young professional to also consider becoming an accomplished professional in your home country before applying for positions as an international civil servant. This will not only make you a stronger applicant, but will also give you more expertize that you can bring to the international organization that hires you.  In my case, this gave me a more solid base to switch to international civil service later on. And as for advice, get a drivers licence! Many jobs in international civil service in field operations and mission environments tend to require one.