Loic Simonet
Senior External Co-operation Officer - OSCE Secretariat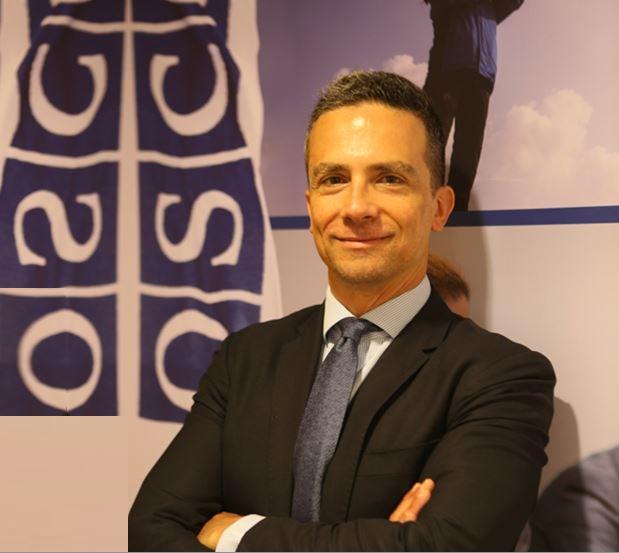 Working at the OSCE has allowed me to build upon my previous experiences and to grow tremendously as a professional in international affairs. I spent the first part of my career at the French Ministry of Foreign Affairs, first at the General Directorate for Armaments (DGA) and then, from 2004 to 2008, at the Legal Affairs Division. In 2008, the position of politico-military advisor to the Permanent Representation of France to the OSCE was offered to me. Then in 2013, I finally joined the Organization as a professional staff member.
International law and multilateral diplomacy are the "red threads" of my career. At the Legal Affairs Division of the Ministry of Defense in Paris, I was in charge of international defense agreements and, in particular, the SOFA (Status of Forces Agreements), which I happened to negotiate directly on behalf of the French government. These responsibilities also put me in touch with NATO, the EU and other international security organizations like the OSCE, hence my assignment in 2008 to Vienna to follow the monitoring issues, armaments and confidence and security measures in Vienna.
At the French OSCE RP, I had to represent France at the Forum for Security Cooperation (FCS), the OSCE's decision-making body that follows the politico-military questions and the "first dimension" of security. I also coordinated the French presidency of the FSC in 2009.This experience has given me a lot in terms of multilateral diplomacy, and has developed my capacities to coordinate different positions in order to reach a consensus, which is a crucial feature of this Organization.
Since 2013, I have been working with External Co-operation in the office of the Secretary General. I specifically cover the EU and NATO, with which the OSCE relations have developed considerably in recent years. I liaise with various stakeholders and organize meetings with these organizations, monitor their activities in areas of interest to the OSCE, prepare visits of OSCE authorities in Brussels and advise the Secretary General on the decisions and directions to be taken with regards to these partners. Until 2016, I was responsible for OSCE relations with its six Mediterranean partners.
Given the flexibility and the relative lightness of its administration, the OSCE offers plenty of opportunities to make an impact as a platform for dialogue as well as great responsibilities. Its 57 member states offer  great cultural diversity and therefore the opportunity to work with very different people, with whom it would be impossible to work  in a national framework, and even in the framework of bilateral diplomacy. The OSCE provides international relations specialists like me with an unparalleled platform for professional growth, both because of its geographical area from Vancouver to Vladivostok (Eastern Europe, the Balkans, Central Asia) and because of its objectives and activities (security and stability in Europe). I would highly recommend the OSCE to anyone interested in international relations and in the comprehensive approach to security.