Irene Ballesteros
Monitoring Officer - OSCE Special Monitoring Mission to Ukraine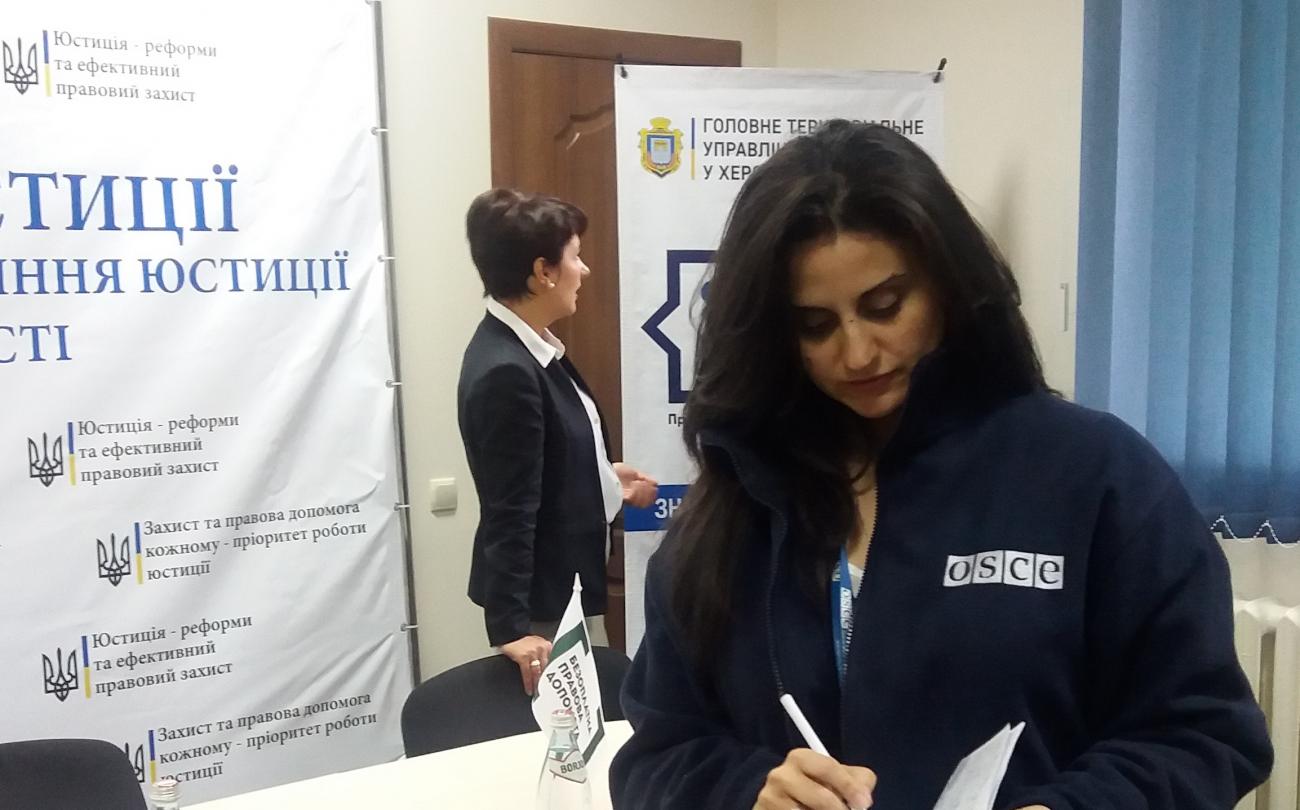 What's your background and how did you end up at the OSCE? What were you doing before you joined the Organization?
I studied Law at three different Universities: Granada, La Sorbonne and Oslo. I specialized in International Public Law, Human Rights and Migration Law and did a Masters' in International Development Cooperation.  
The Slavic world had always fascinated me so I also took three years of Slavic Philology and Culture at the University in my home town. Right after my Masters' degree, I started working as Project Manager for the Spanish Ministry of Foreign Affairs in countries like Bosnia and Herzegovina, Albania, the Dominican Republic and Haiti. I interrupted my career in the field to prepare for the harsh competition to join the Spanish Diplomatic Service, but the Economic crunch delayed the exams for years. I took this opportunity to enrol in electoral observation with ODIHR. In late March 2014, the Spanish Ministry of Foreign Affairs nominated to join the monitoring mission that the OSCE planned to open in Ukraine. This is how I landed in the Special Monitoring Mission in Ukraine (SMMU). Since then, I have been working in different capacities and different places in the South-eastern region of the country till the present moment.
What do you like the most about your job as a monitoring officer?
Without a shadow of a doubt, the most interesting part of working as a monitoring officer for me is interacting with a wide range of interlocutors with different backgrounds, problems and views of the political, security and human rights situation. As the person in charge of Rule of Law, Reporting and Dialogue Facilitation sections while working in the region close to Crimea for over 4 years, I monitored dozens of high profile court criminal cases on separatism, terrorism or high treason and reported on the access to justice outlook for many conflict-affected people –ranging from IDPs, war veterans, or pensioners to regular citizens. The stories behind each case were usually both, sad and inspiring, full of drama and hope, shades and light. Witnessing the courage exercised by some people who grabbed the smallest opportunity to turn their difficult conflict-related experiences into a successful story is probably one of the most valuable presents that this job has given me so far.
What would you recommend to women considering an application for work at the Organization?
To those women considering joining the OSCE, especially to work on a field mission, I would recommend to be aware that this job requires a considerable dose of patience, listening skills, open mind and resilience. Although working in the field is not always easy, I believe the difficulties women may undergo in this type of job are often mitigated when the teams experience a greater gender balance. We need higher presence of women in missions.  Accessing the OSCE has many positive consequences both personally and professionally. I would certainly encourage all those considering this professional option to go for it with determination. The experience is certainly worth it!
What's the value added by the OSCE to your career journey?
My wide experience in the SMMU is a significant step forward in my career, in terms of enhancing my general knowledge of this part of the world and consolidating my professional skills. Not only have I improved considerably my expertise in Rule of Law related issues but I have also greatly sharpened my language and reporting skills. In addition, working for the OSCE has allowed me to move into different portfolios leading me to specialize in several areas and broadening my opportunities for future career development, inside and outside this organization. In addition, the OSCE facilitates the mobility of its employees, either through redeployment policies in field missions or through the organization of seminars/workshops for employees from different teams involved in certain areas. This helps us to get in touch with mission members from different countries, backgrounds and regions, thus opening doors for present and future fruitful professional interactions.