Daniel Blank
Programme Manager, Media - OSCE Mission to Montenegro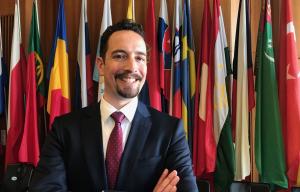 In 2002, before I started the final year of my Master`s studies in Germany I had a long summer break. At that point, I was still not so sure what sort of work to look for after graduation, but I had one more year to go. So I decided to use the break for an internship. I was lucky to be accepted for a two-month internship with a renowned German business magazine publisher. During the first interview, the Managing Director asked me if I would be interested in spending the internship at their new office in Beijing. I was thrilled! Little did I know that this was the start of a long journey in the media world and also a long career journey involving new cultures and countries. I graduated a year later and got my first job at the same company. Then,  I returned to China. I worked for the publishing house for ten years. In 2008 I was asked to join the managing board, and I opened another office in New Delhi. After I initially tried myself as a journalist, I soon discovered my passion for managing all sorts of media projects in challenging environments.
In 2012 I became a public servant by joining Germany`s international public broadcaster Deutsche Welle. There,  I was tasked with the management of a global multimedia project that was funded by the German Foreign Office. At the same time I worked for DW Akademie – Germany`s media development organization. My work as a trainer and consultant took me to countries such as Libya and Afghanistan. In 2015 I was asked to open DW Akademie's new office in Ghana. Over the years I was more and more able to combine my practical work in the media with my university background in political science. During my PhD studies (2005-2008), I worked for the Global Insecurities Centre at the University of Bristol – a centre that conducts research on the world´s most pressing security issues. Throughout my career, I also received special training for running media development and other projects in conflict and post-conflict environments.
In early 2019, I joined the Mission to Montenegro as a Media Programme Manager. For me, this was a dream come true! Within the OSCE's comprehensive approach to security, working with the media is an important part of the Human Dimension. However, as part of my work for the Organization, I also learn more each day about the politico-military, and the economic and environmental dimensions, which enhance my understanding of issues affecting all participating States. I think that free, independent and pluralistic media have a very important role to play when it comes to allowing for more dialogue and inclusion in all sectors of our society. Working for the OSCE allows me to see the bigger picture, particularly about how my programmatic work with the media feeds into the overall objectives of the organization. So, in conclusion, I can say that my work for the OSCE allows me to widen my professional horizons, to further develop my skill set, and to work in a strong team of experts from 57 participating states.  
I very much like the expression "work hard – play hard". As my job can be demanding sometimes, I also try to balance it with some sport activities in my free time. I've joined an international sailing team in Montenegro and I always find a few hours during the weekend to set sail and to have the wind carry me along the shore line of the Bay of Kotor. I very much enjoy these few hours of tranquillity and the physical challenge of braving the waves among the beautiful hills of the bay. These mini-breaks help me to unwind, to refocus and to enter the office with a smile on my face on Monday mornings.  
I can only encourage anyone interested in working with the OSCE to apply. There are very good tools to help you navigate the application process and to prepare you for the written test and interviews. I, for example, took part in the webinar on  "Understanding the Secondment Process at the OSCE"  offered by the Department of Human Resources. Whether you are considering international seconded, international contracted or any other type of positions, the OSCE Webinar Outreach Programme is very helpful in helping candidates understand the different steps of the selection process.