Alena Kupchyna
Co-ordinator, Activities to Address Transnational Threats - OSCE Secretariat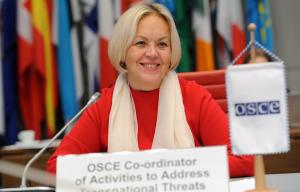 The OSCE has been at the centre of my agenda throughout my entire diplomatic career and was an integral part of my various portfolios in all functions I have served. As Deputy Foreign Minister for European Affairs, OSCE-related issues were one of the major areas of my responsibilities, and in that capacity I was honored to head the Delegation of Belarus participating in the Informal High-Level meeting to commemorate the 40th Anniversary of the Helsinki Final Act.
My first-hand experience with the day-to-day workings of the OSCE came in 2016 with my appointment as Ambassador of Belarus to the OSCE. It was truly exciting to see closely how 57 participating States of such a wide geography work together to generate consensus that must translate into more security, accountability and confidence-building in the OSCE area. Being inside such processes makes one understand how much effort and dedications it takes to ensure cohesion between decision making and implementation of decisions aimed at generating positive change of a lasting impact. And, being a direct contributor to such processes is all the more fascinating.
The most exciting and important thing about working here is that via our everyday routine work, which sometimes appears quite challenging, we contribute to attaining the main goal of the OSCE -  to make our states, communities and citizens more secure.
What I find particularly stimulating is the diversity of my team. We all come from different countries and regions of the world and we bring in our own culture, tradition and language. This requires a profound understanding of the differences but also it enriches our work as decisions are based on views and perspectives of all proceeding from the principles of joint ownership and unity of purpose.
Transnational threats such as terrorism, organized crime, corruption, cyber attacks are common to all OSCE pS and the interest and necessity to address these evolving threats more effectively represent a unifying cooperative agenda for the organization. Despite the geopolitical tension, TNTD is expanding its programmatic work and can build bridges where the political dialogue is stuck.
Working with the security actors can be very challenging as the issues at stake very often touch upon national security interests. However, building trust relations with such important actors prove to be vital to promote the dialogue and cooperation in all areas of work of the OSCE.
The first advice I would give to applicants, particularly women, is to follow their professional interests, regardless of the immediate connection to international civil service. The best human resources are usually committed and well prepared in their field of study or work.  International organizations benefit immensely from the contributions of women and men with previous experience in their national systems. I would also recommend women to dare more, to focus more on what they can bring and to apply for international positions, even when they think their experience does not precisely match what described. And of course, to be professional and creative.
If interested in the work of the OSCE Transnational Threat Department, I would recommend to get acquainted with the emerging global security threats, trying to get some experience in areas that are relevant for the work of the organization and deepening the knowledge and understanding of the work carried out by other international players, e.g. organizations of the UN family, as well as of academia and civil society organizations.